Pittsburgh Wins Inaugural Award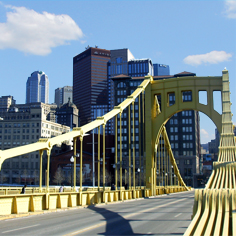 Pittsburgh is one of 13 cities to receive the inaugural Solar America award from the Department of Energy (DOE). The award includes DOE funding and assistance to further promote the development and use of solar technologies.
Carnegie Mellon University, the Green Building Alliance and Duquesne Light all joined forces with city officials to prepare a winning proposal, which outlined plans to build  a sustainable solar infrastructure, streamline regulations and promote the adoption of solar technology among city residents and businesses.
"The Pittsburgh region has gone through a radical transformation from a basic industry with heavy pollution to having an emerging reputation as a hotbed for sustainable design," said Stephen Lee, professor of architecture and lead faculty advisor for Carnegie Mellon's Solar Decathlon team. "Carnegie Mellon along with its sister institutions and non-profit organizations in the city have led this transformation."
Carnegie Mellon will enter its third Solar Decathlon competition in October. This year, the interdisciplinary student team will submit a modular "plug-and-play" house construction that can expand with a homeowner's changing needs.
Lee, who was contacted to help with the Solar America City proposal, was subsequently chosen to guide the city through the first two years of the Solar America program.
"Pittsburgh still suffers from the image of 'the smoky city' and it's important for the region to be actively involved in sustainable design and renewable energy, not only as a source for future economic development in the region but also for continuing to transform the city's image."
He added, "The Solar America City award is a great opportunity to raise awareness across the country, to encourage other cities to become energy-independent by relying on renewable energy."
Related Links: Solar Decathlon  |  Watch VIDEO [.mov]  |  School of Architecture
---