Top 35 Innovators Includes von Ahn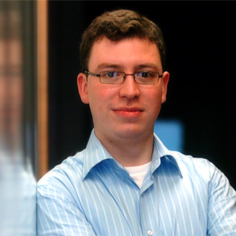 "Technology Review" magazine recently named Luis von Ahn (CS '03, '05), assistant professor of computer science at Carnegie Mellon University, among their Top 35 innovators under the age of 35. Von Ahn is an expert in the field of human computation.
The innovators are featured in the September issue of the magazine and will be honored Sept. 25-27 at the magazine's Emerging Technologies Conference at MIT.
According to Jason Pontin, editor-in-chief and publisher of "Technology Review," the magazine's Top 35 honors young innovators for accomplishments that are poised to have a dramatic impact on the world.
Von Ahn's latest project, called reCAPTCHA, is a new version of the "distorted letter" tests, called CAPTCHAs, that are used millions of times each day to ensure users of a website are human, not spammer programs.
Instead of using artificially distorted letters or numbers, reCAPTCHA uses words from printed texts in the process of being digitized but unable to be deciphered with existing optical character-recognition programs. By solving the reCAPTCHA puzzle, a human user not only gains access to a website but helps make more books available online.
Von Ahn received a Microsoft Research New Faculty Fellowship earlier this year, and last year he was named a winner of a John D. and Catherine T. MacArthur Foundation "genius grant." A native of Guatemala, he earned his doctorate in computer science at Carnegie Mellon in 2005 and joined the faculty of the School of Computer Science in 2006.
Related Links: VIDEO [.mov]  |  TR35 Winners  |  Related Story  |  School of Computer Science
---