Is Hydrogen the New Gasoline?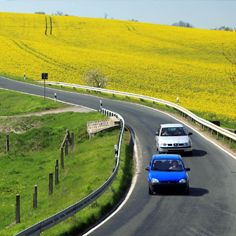 Concerns about global warming and fuel conservation have spurred researchers to look for alternatives. Hydrogen is on the top of many lists, but obstacles remain. That's where Carnegie Mellon's David S. Sholl comes in.
Sholl is working to identify materials that would help make hydrogen more stable and cost-efficient than fossil fuels. By helping to streamline hydrogen storage, his research could cut energy costs and ultimately help hydrogen to replace gasoline.
"We are currently studying the use of metal hydrides, such as alanates and borohydrides, to find materials that could ultimately improve the efficiency of hydrogen cars and curb pollution," said Sholl, a professor of chemical engineering.
Sholl and his team of researchers are trying to create a new material that will store large amounts of hydrogen while still being able to release the hydrogen easily enough to feed the fuel cells of future cars.
Hydrogen-powered cars run on fuel cells that combine hydrogen and oxygen from the air to produce electricity, emitting only water as waste.
"Hydrogen can potentially be produced from domestic resources without emitting carbon dioxide into the atmosphere, which is an attractive vision for a future fuel source," said Sholl, whose research is funded by the Department of Energy and performed in collaboration with Professor Karl Johnson from the University of Pittsburgh.
Once hydrogen is produced, transporting and storing it becomes a problem. As a gas, it requires a lot of energy to compress into a volume small enough to fit into a car.
By using computational methods to screen a large number of possible storage materials, Sholl said his research bypassed what he feels could have been a decade of work to test those same materials in a laboratory.


Related Links: Dept of Chemical Engineering  |  College of Engineering
---