Alarm Clock Tells Kids When It's Time to Stay In Bed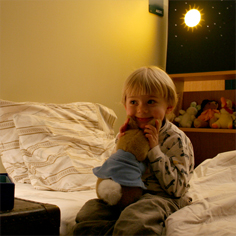 Many parents of young children only dream of getting a full night's sleep. But the dream could soon become a reality with a "reverse alarm clock" created by Carnegie Mellon's John Zimmerman.
Using a wall-mounted "moonset and sunrise" controller, parents can program what time their children are supposed to be in bed and what time they should get up and start the day. The controller runs a "sky display" that shows the child what time it is through images of the sun, moon and stars.
Children who wake to see the moon displayed know that they should stay in bed. When they wake and the moon has set, they can get out of bed if they wish. And when the sun is displayed – and wake-up music is playing – they know they should get out of bed and begin the morning routine.
"Our goal in this project is not to keep children in bed," said Zimmerman, an associate professor in the university's School of Design and the Human-Computer Interaction Institute. "Instead, we are trying to make a product that helps parents feel they are becoming the parents they want to be. The clock attempts to do this by providing very young children with the information they need to make a good decision."
Zimmerman added that the clock helps parents work toward their long-term goal of helping their children become responsible.
The reverse alarm clock is just one of many ways in which researchers at Carnegie Mellon are applying technology to solve real-world problems.
Related Links: School of Design  |  Human-Computer Interaction Institute
---