Creative Posters Raise Environmental Consciousness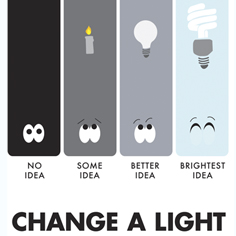 How many Carnegie Mellon design students does it take to get you to change a light bulb? Perhaps just one — take your pick. Judging by this year's design-a-poster project, they're all very skilled at influencing by design.
One of several assignments given by Melissa Cicozi in her Design and Social Change class, the project asks students to design a poster showing how an individual can reduce carbon emissions by changing a single behavior.
While some of the students try to get you to make the switch to fluorescent bulbs, others suggest you turn the lights off altogether. A few encourage you to plant a tree and even consider getting on your bike instead of into your car — all in the name of saving our planet.
Global warming is so overwhelming," said Cicozi, winner of this year's Award for Outstanding Contributions to Academic Advising and Mentoring.  "I wanted the students to not only grab people's attention, but to make viewers feel like one person really can make a difference."
In a second component of the course, the students get together in groups and study the recycling habits of the Carnegie Mellon community. After careful consideration, they design an improved recycling plan - complete with container and label design, a strategic plan for placement of the containers, a plan for "communicating the plan," and a proposed ad campaign for the nationwide college and university competition known as Recyclemania.
The course's final component encourages the students to literally dig deep and reach for any remaining scraps of inventiveness: they have to make something out of trash.  Their work will be exhibited and sold at Construction Junction, an organization that supports and promotes conservation in Pittsburgh through the reuse of building materials, starting April 28.
"The students are in the middle of the final project right now," said Cicozi. "I know they are considering everything from tools and accessories to furniture and housewares.  Any profits will go to Construction Junction, to help them continue their promotion of reusing construction waste and architectural artifacts."
Cicozi's Design and Social Change class is just one of more than 100 Carnegie Mellon courses exploring environmental issues through a variety of disciplines. It's also one of more than 30 courses that integrates environmental awareness as part of the three-year "Greening of Early Undergraduate Education" project, funded by The Henry Luce Foundation. 
Related Links: View Posters  |  School of Design  |  Environmental Education  |  Construction Junction
---