Boss Set for DARPA Urban Challenge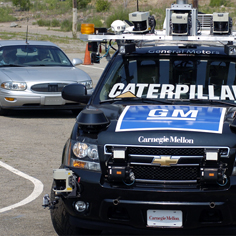 It's show time. Carnegie Mellon's Tartan Racing Team is competing this weekend for the top prize of $2 million in the Defense Advanced Research Projects Agency's (DARPA) Urban Challenge.
Saturday's competition requires self-driving vehicles to navigate a test course that resembles urban and suburban roadways.  In the short term, the experimental technology developed for the challenge could yield new devices that assist human drivers and improve highway safety.
With support from General Motors, Caterpillar and Continental AG, as well as other sponsors, Carnegie Mellon is entering a modified Chevy Tahoe that its Tartan Racing Team calls "Boss." Boss is equipped with automated throttle, brakes and steering for computerized control of physical motion.
"The biggest challenge will be to drive in traffic and stay on the road," said Chris Urmson, the team's director of technology and a veteran of the Carnegie Mellon team that placed second and third in the last DARPA robot race. For that desert race, the team prepared two Hummer-based robots, Sandstorm and H1ghlander respectively. Compared to that earlier race, Urmson said, the Urban Challenge "is a whole new level."
Using only their computer brains and sensors, the autonomous vehicles will navigate a 60-mile course with sharp turns, traffic and obstacles, such as stalled cars and traffic barrels. The vehicles will also have to obey traffic laws, change lanes, merge with moving cars and maneuver through a parking lot to a parking space.
DARPA will give $2 million, $1 million and $500,000 awards to the top three finishers that complete the course within the six-hour time limit.
Related Links: For Updates: Tartan Racing  |  Watch Race: DARPA

---