Design Unleashed at Football Game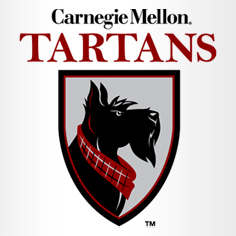 At the Tartan football game on Nov. 10, fans and friends of Carnegie Mellon University got a special treat: they were among the first to preview the new Scottish Terrier mascot design. While a costume is expected to be completed during 2008's spring semester, the official mascot logo was unveiled on posters, T-shirts, buttons and over the scoreboard during the game.
The graphic features the profile of a Scottish Terrier sporting a plaid scarf around its neck. This particular breed of dog — which Andrew Carnegie kept as a pet — is known for its keen, alert and intelligent expression. Its temperament is described as determined and thoughtful while its physical aspects exemplify strength, power and agility in a small package — many traits that are attributable to the university itself.
The image adorns a shield to represent the university's Scottish heritage.
In the spring of 2007, the mascot Task Force partnered with SME Branding, a firm with more than 17 years of experience creating mascots for professional sports teams and universities. Its client list includes the Detroit Pistons, the NBA, the NHL, the NCAA, MIT, Stanford University, Georgetown University, University of Florida and University of Pennsylvania. During October, potential mascot images were previewed by focus groups consisting of alumni, students, staff and faculty.
To garner hype during the weeks leading up to the event, alumni and students strolled the Pittsburgh campus walking 'invisible' dogs on leashes and wearing T-shirts emblazoned with a Scottish Terrier silhouette and the tagline 'See what all the barking's about!"
"The university hopes that making the Scottish Terrier our official mascot will enhance the student experience and create a stronger sense of community across campus and with alumni," said Sophie Nassif, Carnegie Mellon's director of brand initiatives.
The University Store will begin selling official mascot T-shirts and an expanded selection of merchandise featuring the new mascot design in time for the holidays.
Related Links: Susan Bassett on New Mascot  |  University Store  |  Alumni  |  Athletics
---