Robots to the Rescue?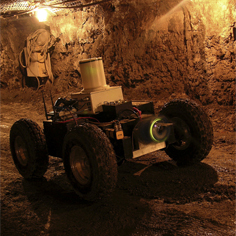 The collapse of a Utah mine took the lives of six miners and three rescuers who worked to save them. This and similar tragic mining accidents in recent years have left many feeling helpless — and some wondering how robots could make a difference.
"Robots can unquestionably speed up mine rescues, where speed often determines the outcome," said William "Red" Whittaker, a University Professor in Carnegie Mellon's Robotics Institute, the institution's highest honor for professors. "There is great deliberation about the safety of human rescuers versus the possibility of saving lives. The deliberation, hesitancy, and sometimes-decision for inaction is not a risk to robotic rescue."
Citing the Sago mine accident in West Virginia in January 2006, Red explained that human procedures require laborious progress of advance, pause, set-up and establishing communication.
Upon recalling that the "step-and-stop progress" took more than a day to reach Sago miners, with only one surviving, Red noted, "A robot might have driven quickly and uneventfully to the trapped miners."
CMU is working on several subterranean robots that could augment rescue operations by forging ahead of rescue teams to provide reconnaissance — and even supporting preventative measures. Groundhog is a first generation mobile system for autonomous mine mapping. Now there is Cave Crawler, a newer robot that is faster and smaller.
"Cave Crawler differs from Groundhog in that it is a smaller profile machine," explained Chuck Whittaker, a robotics field and test engineer working as a consultant to CMU. "It's a lighter machine with a different configuration in its chassis giving it more mobility, allowing it to spin in place to turn around."
Aaron Morris (CS '07), whose work on the Cave Crawler project earned him a doctorate in the field, added, "Cave Crawler systems could one day operate underground on a daily basis to patrol and monitor mine conditions for preemptive detection of explosion or collapse."
Could robots replace people in the actual mining operation and eliminate the risk to humans altogether?
"Actually, robotic systems are already doing a great deal of the mining and haulage in mines," said Morris. "Long-wall miners and belt systems are two examples of mechanization and automation in modern-day mining."
According to Morris, countries such as Australia, Canada and the United States have programs underway that will construct completely autonomous, remotely operated mines.
"Robots will ultimately be doing the mining while being remotely monitored by people," said Morris. "Robots rely on maps and models to operate in mine environments, and projects like Cave Crawler are building the sensors and algorithms to supply those maps and models."
He added, "In this respect, Cave Crawler is paving the way forward for robotic mining technologies."
Related Links: Subterranean Robotics  |  Field Robotics Center  |  Robotics Institute
---