Grad Student Co-Authors Report Offering Environmental Solutions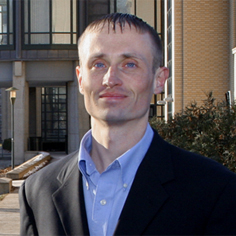 An environmental report that discusses adaptation planning for climate change was recently released by The H. John Heinz III Center for Science, Economics and the Environment in Washington, D.C. 
Bill Perkins — a grad student in Carnegie Mellon's Heinz School — was the lead author of the report, which explores resources available and actions being taken in the United States and abroad.
"It was a fantastic opportunity that arose during my summer internship as a Global Change Fellow at the Center," said Perkins. "Adaptation planning is becoming critical as communities, states and countries begin to address rising sea-levels and other challenges of a changing global climate."
Formerly a military officer, Perkins is now one of 1,000 volunteers in the United States selected and trained by Former Vice President Al Gore and the non-profit group The Climate Project to spread the message of global warming and the urgent moral responsibility to take action.
Perkins describes his unusual path from Army Ranger to environmental advocate.
"After I suffered a period of illness several years ago, I sat down and reevaluated my priorities and where I was going," explained Perkins.  "I determined to dedicate the rest of my life to serving humanity in the best way I could. When I learned about the climate crisis shortly thereafter, something clicked: I knew that I had found my calling."
He now tries to use the skills he gained in the military and apply them to what he considers to be "the greatest challenge of our generation." He says his experience seems to garner him more legitimacy with some audiences, who might otherwise be skeptical.
Perkins noted, "Every day I think, 'What can I do to make the world a better place?' You never know where the road will lead, but it's been a great ride so far, and it's a great privilege to be a public servant and to make a contribution to the future of our planet."
Perkins believes climate change is a problem that can be solved.
"Every single one of us can contribute — from driving a more fuel-efficient car to keeping the environment a priority in whatever field you work in," he said. "We can all find ways to contribute to making our society more sustainable."
Carnegie Mellon recently received more than $22 million in grants from The Heinz Endowments, one of the largest private foundation grants in the university's history. The grants will be used to expand teaching and research in green chemistry and sustainability, and encourage more innovations in robotics and computer science.

Related Links: Read Report  |  Heinz School  |  Carnegie Mellon: Environment  |  The Climate Project
---