Making Beautiful Music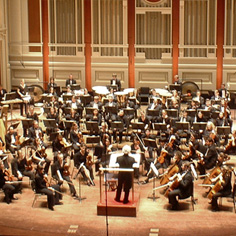 The Carnegie Mellon Philharmonic will be playing a memorable concert April 29. Appearing at Kennedy Center in Washington, D.C., the ensemble will mark the retirement of Juan Pablo Izquierdo, the director for the last 17 years.
The Philharmonic is comprised of approximately 90 to 110 student musicians; the exact size depends on the number of musicians needed to perform chosen pieces. The orchestra has been in existence for decades, and is in many ways comparable to a professional organization.
Noel Zahler, head of the School of Music explained, "We model the entire experience after the way in which professional orchestras are run."
This means that rigorous rehearsal schedules are equivalent to those in the "real world." Even the audition process is modeled after a professional orchestra, with students performing their auditions from behind curtains to ensure anonymity.
Perhaps the ability to so closely duplicate a professional experience comes from the fact that more than 22 faculty members in the School of Music are Pittsburgh Symphony Orchestra members holding first-chair positions.
This allows the student musicians a unique opportunity.
Zahler added, "Each one of these students is really receiving an apprenticeship with someone who is doing what they want to do for the rest of their lives — that's extraordinary."
The Philharmonic plays a varied repertoire, with every concert a mix of standard, 20th century and modern pieces. Interestingly, the ensemble is best known for its modern music and currently has two commercially available CDs of modern works.
The orchestra performs nine concerts throughout the year. They play at least one date locally at Heinz Hall. They also travel to give one performance at a major national venue, such as New York's Carnegie Hall, or as they will this April, the Kennedy Center.
"I firmly believe that this orchestra is arguably one of the finest university orchestras in the country, if not in the world," said Zahler, echoing what many feel. "They are really magnificent performers individually and they also understand what it means to play as a team."
Related Links: School of Music
---