Mark Malmberg on His Unique Art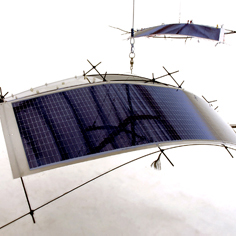 It's late afternoon in 1960s Taiwan, and the sky has turned pink. Two Taiwanese children and two American boys watch in wonder as big blue dragonflies buzz over their heads.
This vivid childhood memory is the inspiration behind "Pink Sky Dragonfly," a solar-powered, robotic mobile created by Carnegie Mellon College of Fine Arts alumnus and sculptor Mark Malmberg (A '79). The handcrafted piece was recently showcased in Sunset Magazine's "Idea House 2007" in San Francisco.
Malmberg's creations merge contemporary technology with lightweight natural materials. The process is painstaking, he says. For example, his piece titled "Hsiao Hua" — named after one of his childhood friends in Taiwan — took him a year to complete.
"The structures, currently a bamboo and carbon fiber composite, are handcrafted in a very meticulous way with hundreds of hand-tied knots — sort of Kon-Tiki style," he said.
He also designs and assembles the electronic circuit boards that contain the sculpture's electronic "brain." Solar cells — held in place by delicate handmade wire clips — power a microprocessor, motors and a propeller that animate the mobile's motion and sounds.
"Some of the concepts underlying my work tie back into my career as a computer animation artist," Malmberg explained. "Upcoming pieces use Bluetooth to allow different mobile pieces to communicate and coordinate their sounds and motion."
He added, "This opens the door to responsive improvisation in both the choreography they generate as well as the sounds."
A passionate advocate of solar power, Malmberg continues to create work that provokes dialogue about its unlimited availability.
"I hope for my work to present the hopefulness of alternative energy without all the politics and financial equations that usually accompany such conversations," he said.
He also says he enjoys doing work that pushes so many fringes of his own abilities.
"Whatever I can do that allows me to direct 100 percent of my potential into something that can be shared with others — that is a way in which I can contribute most positively to the world in which I live."
Related Links: Mark Malmberg.com  |  2007 San Francisco Idea House  |  College of Fine Arts
---