Sundance Shows 'Smart People'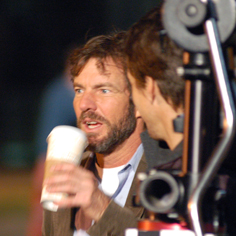 Seems like only yesterday Carnegie Mellon's Pittsburgh campus was abuzz with lights, cameras, friendly film crews and purported Dennis Quaid sightings.
Now "Smart People" — the major motion picture from Miramax starring Quaid as a widowed Carnegie Mellon English professor and Sarah Jessica Parker as his former student — is showing at the Sundance Film Festival.
Filming took place at several buildings across campus and university students were used as extras, production assistants and interns. Thomas Haden Church plays the professor's adopted brother and Ashton Holmes plays a Carnegie Mellon student.
According to a Miramax spokesperson, Carnegie Mellon fares well in the movie — "looking both smart and hip."
Billed as a dark comedy, the story finds Lawrence Wetherhold (portrayed by Quaid) recently widowed with a son, whom he's alienated, and an overachieving daughter, who hasn't any friends.
As Wetherhold falls in love with his former student Janet (played by Parker), matters become increasingly complicated when his ne'er-do-well brother (played by Church) unexpectedly appears on his doorstep needing a place to stay.
The movie — in theaters this spring — is directed by Noam Murro and produced by Bridget Johnson, Michael Costigan, Michael London and Bruna Papandrea. London's credits include "Sideways," "House of Sand and Fog" and "The Illusionist."
Related Links: Sundance Top 5 Flicks  |  Related Story  |  Read Tartan Newspaper Article
---