'One Cold Hand' Takes Prize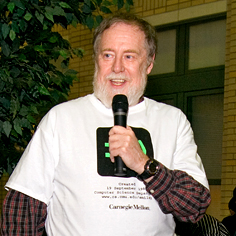 The winner of Carnegie Mellon's first Smiley Award is "One Cold Hand" — a website designed to reunite lost gloves with their mates. Sponsored by Yahoo! Inc., the $500 prize will be presented annually to recognize clever contributions in the spirit of the original smiley symbol.
The award is named in honor of the ubiquitous emoticon, :-), created at the university 25 years ago by Professor Scott Fahlman. The symbol was an early — and still widely used — convention allowing people to indicate humor and happiness via text.
"Receiving the Smiley Award is a real honor," said site co-creator Jennifer Gooch, a graduate student in Carnegie Mellon's School of Art. "A lot of my current work and research looks at how people use technology in order to connect."
Gooch shares the prize with Turadg Aleahmad, a doctoral student in the School of Computer Science's Human Computer Interaction Institute (HCII). Their names will be engraved on a plaque kept on permanent display at the university.
Honorable mention awards went to "MoodJam," created by HCII doctoral student Ian Li, and "Buxfer," created by computer science doctoral students Ashwin Bharambe, Amit Manjhi and Shashank Pandit.
"MoodJam" is an online diary that allows people to express their moods and feelings on a website using patterns of color. Buxfer is a free, web-based application that allows its users to easily keep track of shared expenses and to figure out who owes money to whom, which has proven handy for roommates, student social groups and many others.
The winning student projects were chosen by a panel of faculty and student judges. All winners were recently honored at a special Yahoo-sponsored celebration in the Newell-Simon Hall Atrium.
The Smiley Award is open to all students at Carnegie Mellon and was established last fall at the urging of Fahlman. Fahlman hopes it will encourage development of more student projects that enhance person-to-person communication via computer, as the Smiley did back in 1982.
Related Links: Read About MoodJam  |  Read About Buxfer  |  Read About One Cold Hand
---