Balancing 'Parenting' & 'Babytalk'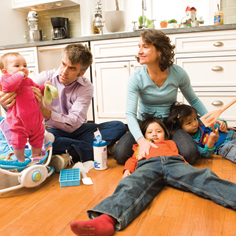 From sleep strategies to cold remedies to how to lose those post-baby pounds, parenting topics are as much a part of Nancy Brooke Smith's workday as they are her life at home.
A busy mother of three, this alumna of Carnegie Mellon's College of Fine Arts was recently named creative director of Bonnier Corp.'s Parenting Group where she'll serve as art director of Parenting and Babytalk magazines and their website Parenting.com.
Smith describes her career path the way some of her audience might describe their pregnancies — as a series of "unplanned but happy" endeavors. She took her first job at the Washington Post and figured she'd leave after a year. But instead she stayed four years, won lots of awards and learned much more than she ever dreamed.
"Working for a newspaper is an amazing place to start out because you learn to work very fast and let go of the precious attachment to your work," she said. "In school you can labor over a project for weeks and think it's a piece of art; at a newspaper it's literally garbage the next day, but then there is always another chance."
As art director at Ms. Magazine, Smith gained another layer of experience. Concentrating on publication design enabled her to work with editors and storytelling, which she enjoys. And she's had the opportunity to write for almost every publication she's art directed.
"I use my kids as inspiration every day, bringing anecdotes to story meetings, props or ideas into pictures that I art direct," she explained. "I like to make real, messy photos with a sense of humor because no mother can relate to images of parenting that are perfect."
Smith's youngest daughter has even been used as a model dozens of times — mostly by default when a real model wouldn't cooperate, which she says happens a lot with babies.
"I've come to see kids are limitless in their visual possibilities," Smith noted. "Parenting is crazy, infuriating, scary, hilarious, sad, exhausting and wonderful. I get to play with all those emotions every month."
Through her work, Smith hopes to help some young mothers feel better about themselves and their lives with children. She notes that many of the magazines in her category portray mothers in unrealistic ways and living in perfect homes.
"My aim is to be more honest with my magazines and their imagery," she explained. "If I can make a woman laugh or smile in recognition when she sees a picture in one of my magazines — perhaps one of a baby scribbling on a wall or a mother sword-fighting with her son — I've done something right."
Photographed: Nancy w/ her husband John Casey (A '85) and their children (l. to r.) Frances, Roma and Bea.
 
Related Links: Parenting.com  |  Ms. Magazine  |  College of Fine Arts
---