Bestselling Book & TIME's 100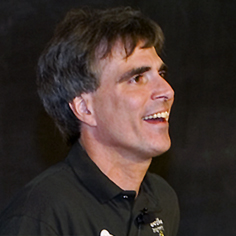 Carnegie Mellon Professor Randy Pausch was recently named one of TIME Magazine's 100 of the world's most influential people.
And his book, "The Last Lecture," co-written by Jeff Zaslow of the Wall Street Journal and based on Pausch's now-famous talk "Really Achieving Your Childhood Dreams," is a New York Times bestseller.
Pausch, a 47-year-old married father of three, has been diagnosed with pancreatic cancer. The video of his last lecture has been viewed on the Internet by millions worldwide, and he has appeared on the Oprah Winfrey Show, ABC's Good Morning America, the CBS Evening News and an ABC News Special with Diane Sawyer.
Pausch co-founded Carnegie Mellon's Entertainment Technology Center and created Alice, a revolutionary way to teach computer programming to first time students. He has been using the time he has left to share lessons he hopes will one day help his children realize their childhood dreams.
"Almost all of us have childhood dreams; for example, being an astronaut, or making movies or video games for a living," said Pausch. "Sadly, most people don't achieve theirs, and I think that's a shame."
Pausch says he had several specific childhood dreams and has actually achieved most of them — from floating in zero gravity to winning stuffed animals to being a Disney Imagineer.
Some advice for living the life of your dreams, according to Pausch:
Bring something to the table; you'll be more welcomed;
The brick walls are there to show you how badly you want something;
Wait long enough and people will surprise and impress you; and
Don't bail; the best of the gold is at the bottom of the barrels of crap.
One of Pausch's dreams was to play football in the NFL. He says not achieving that particular dream put him where he is today — fulfilling the dream of helping people.
Shortly after the lecture Pausch was invited to spend an afternoon with the Pittsburgh Steelers during football practice, where he caught every pass thrown to him — testimony to his advice that if you live your life the right way, the dreams will come to you.
And for Pausch, the dreams are still coming.
"The lecture I'm personally most proud of is a lecture on Time Management I've given for many years," he wrote recently on his personal homepage. "I am insanely proud that if you type 'time management' into Google, there are 50 million relevant pages, but that lecture is — at least today — the #1 hit. Cool!"
He is also thrilled that the newest version of Alice — Alice 3.0 — features characters from The Sims™, one of the best-selling PC video games of all time created by Electronic Arts.
"I, like Moses, get to see the Promised Land but I won't get to set foot in it, and that's okay," said Pausch during his now famous lecture. "I can see it and the vision is clear — millions of kids having fun while learning something hard."
He assured the audience, "I can deal with that as a legacy."
Related Links: Watch The Last Lecture  |  Randy's Website  |  Buy the Book  |  More Info
---