Transforming Fashion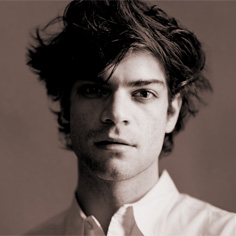 Justin Giunta (A '01) created a special birthday present for a friend and hit on a life-changing career. The one-of-a-kind bracelet — hung with a mini-arsenal of old gun charms — was an instant hit.
So was the femme-fatale bracelet of his that followed, dripping with high heels and daggers. And then the next. And, well, it hasn't stopped since.
Giunta dubbed his unique line Subversive Jewelry. It was soon a favorite of stylists, editors and "The New York Times," moving quickly on to international retail distribution. Giunta recently launched "Subversive for Target," a collection he was asked to design specifically for the mass merchant.
The "subversive" moniker represents Giunta's view that jewelry's value should reflect its artistic creativity, not the economic worth of its raw materials.
For his own pieces, Giunta scours the world for vintage materials. He has been a hunter and a gatherer in this way since he started. He finds his beads and chains in places as diverse as old warehouses and basements, fashioning these turn-of-the-century parts into thoroughly new pieces.
"It's definitely new design, but it has a tinge of this old luster to it," he explained.
Giunta originally came to Carnegie Mellon as a painter, searching for intellectual stimulation.
"I got a full, well-rounded liberal arts education and got to apply that to the visual work I was making," he said.
He also got the chance to expand his artistic view. "It was a really positive experience. It opened my eyes to a lot of different media — forms of expressions above and beyond paint," he said. "A more wearable form of art definitely seeped into my work at Carnegie Mellon."
For inspiration, Giunta tries to ride above the ever-changing waves of fashion. He relies instead on his education.
"I'm perpetually inspired by art history, having spent my life studying it," Giunta explained. "I can endlessly look into colors and textures and cultural meaning and weave that into my jewelry work. It is always fresh and unique to the fashion world."
Perhaps the timeless appeal of Giunta's work grows from his design process, beginning with his very first charm bracelets.
"All of the jewelry continues to tell a narrative. Every piece tells a story," he said.

Related Links: Justin Giunta.com  |  Subversive Jewelry.com  |  College of Fine Arts
---