It Just Keeps Getting Better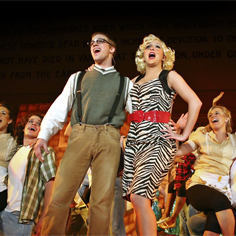 At this year's Greek Sing, Carnegie Mellon's sororities and fraternities "outperformed" themselves. Their efforts showcased 11 performances and raised a whopping $20,292 for Gilda's Club of Western Pennsylvania — about $6,000 more than last year's fundraising with nearly 1,000 additional tickets sold.
"My favorite part of the show was when we presented the check to Carly Reed from Gilda's Club," said Greek Sing Co-Chair Bevin Hill, a senior majoring in vocal performance. "The look on her face was priceless. She was prepared to get a large check, but the amount actually made her speechless."
Gilda's Club of Western Pennsylvania provides a meeting place where men, women and children living with cancer, along with their families and friends, can come together to support each other.
A panel of six faculty and staff judges critiqued the performances on such qualities as music, choreography, overall entertainment value, clarity of storyline and use of props.
Alpha Epsilon Pi took top prize with "Revenge of the Jocks." Kappa Delta Rho came in second with "KDR Presents: Greek Sing," followed by Theta Xi and their performance of "Greek Lightning."
Phi Kappa Theta and Delta Gamma paired up for "Little Shop of Horrors" to claim the number one spot in the doubles category. Sigma Phi Epsilon  and Kappa Alpha Theta took second with "Hercules," followed by Pi Kappa Alpha and Delta Delta Delta with "I Love You, You're Perfect, Now Change." The 2008 show also included first time performances by Pi Delta Psi and Alpha Kappa Delta Phi.
"That fraternities and sororities were able to come together to raise this sum of money for a charity is nothing but inspiring and proof that the Greek community can deliver when we work together towards a common goal," said Co-Chair Dorian Adeyemi, a junior pursuing a double major in policy and management and international relations. "I think we accomplished something here that not only Greeks, but the entire Carnegie Mellon community can be proud of."
Photo: Phi Kappa Theta and Delta Gamma performing "Little Shop of Horrors"; taken by Jason Meistrich
Related Links: Greek Life  |  Gilda's Club of Western PA
---