Brandon Schantz on Being the Best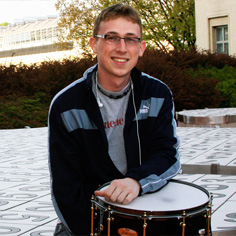 When Carnegie Mellon percussion major Brandon Schantz (A '08) signed up to compete in the International Snare Drum competition in Paris, he decided early on he was in it to win.
"I feel like I could have gone and put in a good running, but that just wasn't going to be good enough for me. I wanted to work toward winning," said Schantz.
So in August 2007 — three months before the competition — he mapped out his plan.
"I made a calendar for what I wanted to have done each day. I aimed for two lessons every week instead of the usual one lesson a week," he explained. "When all was said and done, I put in 300 hours."
Riccardo Schulz, an associate teaching professor of music at Carnegie Mellon, compared watching Schantz during those three months to an Olympic athlete in training.
"These competitions can be really brutal," said Schulz, who noted that the judges often wait for the slightest mishap so they can eliminate someone from the competition. "From the result, we can be sure that Brandon was pretty much perfect in everything he played."
The first round had 25 musicians from all over the world. Brandon was one of seven who made it through to the second round.
"The competition consists of pieces that are assigned and prepared ahead of time, and one free choice piece," Schulz explained. "There are also some collaborative pieces, but for the most part, it's everyone for himself or herself."
The third and final round left Brandon and two others in the running. They played their hearts out. And after what Schantz calls a painful 20 minutes' worth of deliberations by the judges, he was announced the winner.
"It doesn't matter what you choose to do," said Schantz, explaining his rigorous working style. "You still have to be organized, you still have to put in the same amount of time, and if you want to be the best, you should have that competitive drive to be the best at what you do."
Schantz has received a full scholarship for graduate school and plans to learn as much as he can.
"A lot of people go to school just for the orchestra thing, but I want to be more well-rounded. I want to be able to sound as great as I can," he said. "If you sound good at anything, that's when you start getting the calls back and getting the money."
Schantz is grateful for the support he's received from his teachers at Carnegie Mellon — Professors Tim Adams Jr and Paul Evans — and has taken on three students of his own. The first attends Mt. Lebanon High School and is progressing well. His second student was recently accepted into the Pittsburgh High School for the Creative and Performing Arts (CAPA). The third is a 6-year-old beginner.
Schantz auditioned at Penn State, Rutgers, Temple and Carnegie Mellon and was accepted into all four. He chose Carnegie Mellon after talking to a friend who had come here to study vocal performance.
"I really liked it here," he said.
Related Links: School of Music  |  College of Fine Arts
---