Professors Receive NSF Awards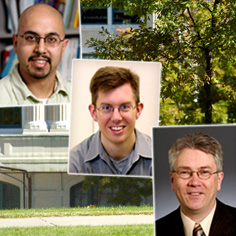 Three Carnegie Mellon researchers recently received recognition from the National Science Foundation (NSF) for their innovative work.
Computer scientist Anind K. Dey, psychologist Erik Thiessen and biomedical engineer Stefan F. Zappe have received the Faculty Early Career Development (CAREER) Award — NSF's most prestigious award for junior faculty.
Dey, an assistant professor in the School of Computer Science's Human-Computer Interaction Institute, will receive a five-year, $500,000 award to make intelligent, interactive systems easier for people to understand and control.
Dey's research team is creating a suite of tools that will help system developers include features explaining what the system is doing and giving users the opportunity to control the system and the information it gathers about them.
"The heart of the research is making new intelligent systems more usable to people," Dey explained.
Thiessen, an assistant professor of psychology in Carnegie Mellon's College of Humanities and Social Sciences, received a five-year, $450,000 award to support his research on how infants acquire language skills.
"When you want to know if an adult has learned something, you can simply ask them," Thiessen explained. "With infants — if you ask — you won't get a verbal answer. So it's important to use indirect methods to get a response."
Thiessen collects information by studying what catches an infant's attention and for how long.
In addition to influencing future research, this work will be used for practical purposes — such as aiding children with developmental delays or adults attempting to learn a second language.
Zappe, an assistant professor of biomedical engineering, will use his five-year, $400,000 CAREER Award to develop MEMS-based fruit fly embryo injection technologies for high-throughput RNA interference screens. The injection systems will enable systematic studies on how genes function and diseases develop.
"The fruit fly Drosophila serves as an important model organism for human biology. Our new technologies will for example enable systematic studies on molecular mechanism implicated in cancer, Alzheimer's and Parkinson's disease," he said.
Zappe intends to grow his research into a bigger project by leveraging the expertise from research centers across campus.
Photo: Anind K. Dey, Erik Thiessen, Stefan F. Zappe 
Related Links: Human-Computer Interaction Institute  |  Dept of Psychology  |  College of Humanities & Social Sciences  |  Dept of Biomedical Engineering
---