Schaffer Fellow Flourishes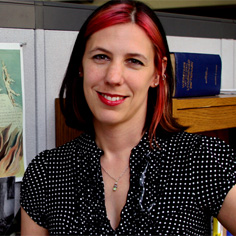 Thora Brylowe (HS '09) is on a quest to get her Ph.D. in Literary and Cultural Studies (LCS) from Carnegie Mellon. A Schaffer Fellowship has given her the flexibility to devote significant time to research, enabling her to finish her dissertation sooner than she'd planned — and saving her thousands of dollars in student loans.
Specifically, Brylowe was able to spend a month outside teaching, devoted entirely to research.
"I have flourished here in Pittsburgh, and Carnegie Mellon's LCS program has been exactly the right environment for my work," wrote Brylowe in a letter to Gary and Valerie Schaffer, who established the fellowship. She also expressed her gratitude for the fellowship's help in giving her time to care for her three young children.
Through a focus on the history of print culture in the late 18th century, Brylowe's work is bringing to light the value of a liberal arts education today. By studying the relationship between the visual and the verbal during the 1700's — how images affected the reading audiences — she hopes to contribute to a re-evaluation of the humanities discipline.
"Painting and poetry were sister arts during that time," she explained. The metaphor she uses is that painting is like a still poem and poetry is like a speaking picture.
"There was an optimism about the sister arts communicating the same message, but that is not the case now," she said. "I'm trying to show the historical conditions that made that change — we take it for granted that reading and seeing are different experiences now, but it wasn't always that way."
Brylowe sees the impact of her work as helping to fix what's broken — or what at least appears to be breaking.
"At this moment, the ideology that governed our field for the last couple centuries, give or take, isn't working," she said, noting a scarcity of jobs in the humanities field, a cutting of programs nationwide and fewer parents willing to pay for a liberal arts education.
"As part of the process of re-evaluation, I am suggesting we turn to the moment when that ideology was in large part formed ... to try to better understand what the assumptions writers and scholars had about what it meant to study literature."
Brylowe is enjoying her experience at Carnegie Mellon, calling it 'fantastic.' The collaborative environment, the Schaffer Fellowship and the relationship she has with her advisor, Jon Klancher, have played a big part in that.
"He has helped me to understand the profession historically: what literary criticism means and has meant since the term 'literature' came to mean what it means now," Brylowe said.
"My peers have read things for me, helped me talk through ideas and been generally supportive and interested in my work," she added. "The grad students have a really good community here. They really help each other."
Related Links: College of Humanities & Social Sciences  |  Prospective Grad Students
---