...and Counting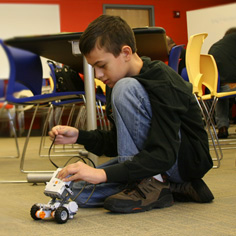 It was late 2006 when Mark Palatucci, a Ph.D. candidate at Carnegie Mellon's Robotics Institute, received a surprise letter in the mail. Inspired by Oprah Winfrey's 'Pay It Forward Challenge,' friends had sent him a check for $1,000 with the instruction to "do some good in Pittsburgh."
Glancing at the array of childhood robots gathered in his cabinet, Palatucci had a brainstorm. He would buy robots — powerful Lego Mindstorm NXT robots — and give at-risk children the same opportunity he'd had to develop a passion early in life.
He explained, "I reflect a lot on how lucky I've been — and how much I want to create an opportunity for other people."
After much thought and one 2 a.m. milkshake-burger session, Palatucci established 100 Robots — a program to provide 100 LEGO robots to the young members of Big Brothers Big Sisters of Greater Pittsburgh.
Given the inexperience of the children and mentors, 100 Robots holds much-anticipated "build days." Graduate students from the Robotics Institute volunteer their time and expert guidance.
Reactions from the children, parents and mentors have been "incredibly enthusiastic," and many letters of thanks have poured in. One youngster was so thrilled that he is now excited about something he'd never imagined — a college education to study robotics.
Palatucci added, "I felt really strongly about this program when I started it, and after doing it for a year I feel much stronger."
Donations have come from diverse individual and corporate sources. Google recently pledged $5,000 and hosted the first of its own build days, complete with "Googler" volunteers.
Early this year, 100 Robots reached its initial target of $25,000 and the Grable Foundation recently gave $14,250.
But Palatucci's work is far from done. He hopes to expand the program, scheduling monthly build days as well as additional events for returning young robot fans.
He also wants to ensure the life of 100 Robots at Carnegie Mellon. He's looking for both continued funding and wider volunteer participation on campus.
He said, "I'm hoping that we get some people to step forward who are really passionate about the project." Just like Palatucci.
Related Links: 100 Robots Blog  |  Build Day Videos  |  Robotics Institute  |  School of Computer Science  |  Big Brothers Pittsburgh
---