Acclaimed Artist/Humanitarian to Visit Campus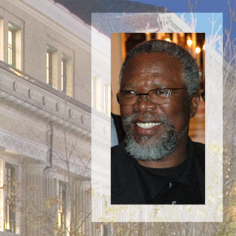 Renowned actor and humanitarian John Kani is visiting Carnegie Mellon's Pittsburgh campus this week and will deliver a lecture exploring reconciliation in South Africa.
Hosted by the university's School of Drama, Kani's lecture is entitled "Embracing Reconciliation: The Meaning of 'Ubuntu' in the New South Africa."
After a lifetime experiencing the violence of apartheid, Kani will candidly share his struggle to embrace South Africa's new policy of truth and reconciliation.
He will explain how he came to embrace Desmond Tutu's call for "ubuntu," which means having self-respect through respect for others.
"The School of Drama seeks to bring diverse artists of stature to enrich the lives and education of our students and the Pittsburgh community," said Elizabeth Bradley, head of the School of Drama. "Kani represents the ultimate fulfillment of that mission. He is an artist dissident, an extraordinary humanitarian and master actor, director and playwright."
Kani won a Tony Award for his 1975 performance in "The Island," a play he co-authored with Athol Fugard. Later he reached a wider audience through his work with Matthew Broderick in Fugard's film "Master Harold ... And the Boys."
Kani was the first post-apartheid artistic director of the Johannesburg Market Theatre, South Africa's most respected theater company, and this past year appeared in the Royal Shakespeare Company's production of "Hamlet" in the United Kingdom.
Bradley added, "As someone who consistently risked his life to practice his art, his example demonstrates the transformative power of the theater and of the contribution of a singular individual."
Kani's visit is presented in association with the August Wilson Center for African American Culture. His lecture will be held at 4:30 p.m., Tuesday, Jan. 16, in the Philip Chosky Theater on the Pittsburgh campus.
Related Links: School of Drama
---