Creative Mom Meets Market Need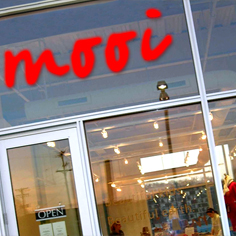 Jill Uhryniak (TPR '01) has gotten used to people stopping her on the street. Curious moms want to know where they can find the clever winter scarves like the ones her children are sporting.
Her younger son's scarf looks like a duck's head at one end with webbed feet at the other. And big brother's is olive green with yellow spikes - similar in design, but a dragon's head and tail instead.
Prior to November 2006, she would explain that she found the unusually soft scarves at an organic clothing store for children in Germany.  Now, she can invite folks to her own organic clothing store "mooi," which she and her friend Emma Gosden (TPR '95) opened on the upper level of EastSide Mall in East Liberty, Pennsylvania.  
"Creating a natural environment for their children is a vital decision for a growing number of families," said Uhryniak. "I wondered, 'Is this a market need that I could fill?' It was an epiphany moment."
Mooi is the Dutch word for beautiful.  "It's a simple word, but it conveys so much of why we are doing this," said Uhryniak.  "All the little ones that come into our shop are naturally beautiful.  It is our responsibility to keep our earth beautiful for them, and supporting the smaller designers that make such beautiful products feels right.  It just seemed to fit."
The partnership between her and Gosden works nicely.   Gosden crunches the numbers and Uhryniak handles the product selection and marketing side of the business.
"It is exciting to develop a brand that is both fashionable and environmentally conscious. Mooi offers our clients options that achieve both criteria," said Gosden.
In addition to clothing, mooi extends their organic offerings to toys, cotton diapers, bedding and crib mattresses.  There is a story hour every Friday at 10:30 am.  Store hours are Tuesday through Saturday 10-6pm, Sunday 12-5pm.  
Related Links: mooi  |  Tepper School of Business
---