Seed Improvement Wins Sustainable Technology Award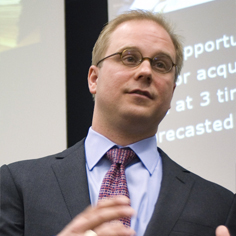 A team from China won the inaugural Sustainable Technology Award at Carnegie Mellon's 2007 McGinnis Venture Competition held March 15-17. Their business venture — Dr. Seed LLC — aims to help impoverished farmers with a seed-improvement technology that increases crop yield.
"We really wanted to develop an idea that would have a maximum impact on improving the quality of life for Chinese farmers," said Jonathan Chin, who represented the nine-member team at the contest hosted by the Donald H. Jones Center for Entrepreneurship at the university's Tepper School of Business.
By exposing seeds to a blast of light from a plasma-quartz bulb, the technology improves the crop's resistance to drought and reduces the incidence of seed-borne diseases. At first, Dr. Seed will be used to improve soybean production, but the technology will work with corn, wheat and other grains, Chin said.
The other members of the award-winning group are: team leaders, Vincent Wen and Christopher Chang; and Michael Wu; Grace Liu; Elisa Jiang; Michael Cheung; Dell Hyun; and Sunjai Tutakorn. Dr. Seed received $15,000 in cash and $20,000 in business services. Funding for the Sustainable Technology Award in its first year was provided by Sarosh Kumana, a 1977 Tepper School MBA alumnus.
The University of Texas at Austin won the competition's Technology Track with a business called Evapt, Inc. Evapt focuses on improving the performance of web-based software. Team members Divakar Jandhyala and Ranjit Nayak won $25,000 cash and $20,000 in business services.
Winner of the Life Sciences track was Universidad de los Andes in Colombia with Trocamera, a business to improve laparoscopy for treating abdominal pain in Latin America. Team members included Marcela Cardenas, Rafael Arango, Jaime Gonzalez and Marcela Cardenas. They won $25,000 in cash and $20,000 in business services.
A team from the Tepper School placed second in Life Sciences with NeuroBank, a business plan to isolate, remove and store adult neural stem cells for use in treating certain neurological diseases and injuries. Team members include Hassan Sultan and Raymond Sekula, a neurologist at Allegheny General Hospital.
All winners will be automatically entered in the Moot Corp® Competition. They'll also be given special access to Pittsburgh-area early stage investors for up to an additional $100,000 in additional investment opportunities.
Photographed: Raymond Sekula, Tepper MBA '08
Related Links: Sarosh Kumana on Sustainable Technology Award [PODCAST]  |  McGinnis Venture: Competition Adds Clean-Tech Award  |  Tepper School  |  Don Jones Center
---