Students Perform Tribute to Alvin Ailey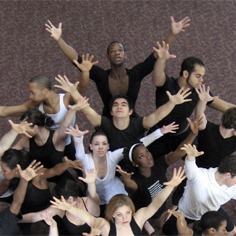 Students from Carnegie Mellon's School of Drama will honor renowned dancer and choreographer Alvin Ailey with their powerful performance "Alive and Dancing." A tribute to Ailey's masterpiece ballet "Revelations," performances take place Feb. 11 at 2 p.m. and 5 p.m. in the University Center's Rangos Ballroom.
Senior drama student Antwayn Hopper, who co-adapted "Alive and Dancing" with fellow dramat Kara Lindsay, fell in love with Ailey's classic piece as an eighth grader in Kansas City, Mo.
"There was a dance troupe, Greater Friends of Alvin Ailey, who had a partnership with Alvin Ailey," Hopper explained. "They would hold summer camps and teach us pieces of 'Revelations.' It has always been a dream of mine to recreate and actually perform it."
A celebration of the soul-stirring gospel music of Ailey's youth, the work fuses modern dance and ballet with popular music, gospel and jazz for an experience that, according to Hopper, has moved previous audiences to tears.
"We literally see the transformation-from the oppression, to the deliverance of evil at the baptism, to the elation in the church," said Hopper. "It's absolutely beautiful."
Hopper said the message he and fellow dancers want to convey is that the theme is universal.
"It's not just about blacks, it's about humanity," Hopper elaborated. "It's about 'Look at how far we've come, and look at how far we need to go.'"
The show is one of many events planned at Carnegie Mellon's Pittsburgh campus in celebration of Black History Month. Most of the events are free and open to the public including various lectures, an art show, panel discussions, and a Diversity Discussion and Dinner series.
Tickets for "Alive and Dancing" are $5 and will benefit the College of Fine Arts' Senior Showcase. They are available at the Purnell Center Box Office (M-F, 12-5 p.m.) or by calling 412-268-2407. They will also be available at the door.   
Related Links: School of Drama
---