Pre-College Ensemble, Choir Perform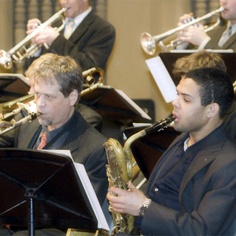 Jazz lovers who attend this weekend's "Reservoir of Jazz" concert in Highland Park will be treated to performances by Carnegie Mellon's Pre-College Jazz Ensemble and Jazz Choir. The Aug. 5 show is an opportunity for the talented high school juniors and seniors to strut their stuff beyond the Carnegie Mellon campus.
According to Director of Jazz Studies David Pellow, the pre-college program brings students together during the summer for intensive study of instruments and ensemble work.
"In six weeks, they come together as a group and, through the American ideal of jazz, express their commitment toward the principles of higher education and culture," Pellow said.
On Sunday, the Jazz Ensemble and Jazz Choir will perform the music of Stevie Wonder; Earth, Wind and Fire; Charles Mingus; and Horace Silver.
"Pittsburgh's sponsorship of the arts, and especially jazz, will allow these young people to [continue to] express the joy that comes from group participation in and individual expression through jazz music," Pellow added.
The event is sponsored by Highland Park Community Club; State Representative Joe Preston; Mellon Financial Corporation; DUQ 90.5 FM; New Pittsburgh Courier; and Aunt Cheryl's catering.
There are five jazz concerts in the "Reservoir of Jazz," series, held each Sunday in August and the first Sunday in September 5-7 p.m.
Concerts take place on the lawns of Highland Park near the upper reservoir adjacent to the new fountain. For more information, call 412-255-8975.
Related Links: School of Music
---