Full-time Freelancer Juliette Borda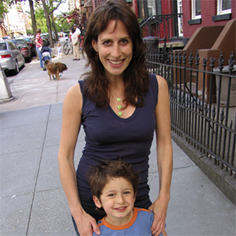 Inspiration can strike in any number of places. For Carnegie Mellon University alumna Juliette Borda (A '89), it happened during a slideshow of past and contemporary artists in Professor Susanne Slavick's class.
"Her immense visual tours made anything seem possible," recalled Borda, who went on to make a successful career as a full-time, freelance illustrator.
Over the past 17 years, Borda's artwork has appeared everywhere from the "New York Times" and "New Yorker Magazine" to "GQ" and "The Atlantic Monthly." Most recently, she has been preparing illustrations for Citibank, "Body and Soul Magazine" and Purity organic juice bottle labels.
Slavick feels Borda's work has gained its wide acceptance as a result of the artist's ability to address so many subjects with humorous poignancy.
"I remember the droll sense of humor in her work, which now provokes and delights ever-expanding audiences," said Slavick. "Few can do justice to a line-up of topics that range from Mr. Rogers and shyness to summer camp and skin conditions."
Slavick, whose personal favorites among Borda's work are "Pregnancy Pinch" and "Wife Guarding," is pleased that the artist doesn't confine herself to print media.
"It's always a pleasure to see her work in the flesh, at Chelsea art galleries such as Bellwether [owned and run by another Carnegie Mellon School of Art alumna, Becky Smith (A '96)] or in the collection of the Carnegie Museum of Art," Slavick said.
Some of Borda's work is currently in a traveling show called "Picturing Health." The show originated at the Norman Rockwell Museum this winter and is at the Florence Griswold Museum in Connecticut through Oct. 14, 2007.
Slavick added, "I always look forward to what curious blend of the incisive and tender she'll come up with next."
Related Links: View Her Work  |  School of Art  |  College of Fine Arts
---