The Best of Primetime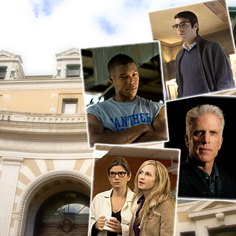 Carnegie Mellon's School of Drama continues to produce graduates who earn immediate recognition for the high quality of their talent and training — including many appearing on television this fall.
"The appetite that the industry has shown for our recently graduated young actors is a tribute to the gifts of these young artists," said Elizabeth Bradley, head of the School of Drama.
"But their accomplishments would not have been possible without sterling teaching from dedicated faculty and the remarkably rich learning environment in the School of Drama at Carnegie Mellon," she said.
Placing the spotlight on recent alumni from the acting program, here are the places you can look for School of Drama talents on television this season:

Gaius Charles (A '05) returns this fall as running back Brian "Smash" Williams on the NBC television drama "Friday Night Lights."
Zachary Quinto (A '99) returns as the eerily unforgettable bad guy in NBC's Emmy-nominated science fiction drama "Heroes."
Josh Gad (A '03) and Bernard Vyzga (A '76, '78) join Kelsey Grammer for the new Fox television series "Back to You," which is set in Pittsburgh. Vyzga is the show's production designer and Gad portrays the news director.
Michele Wong  (A '07) will guest-star on NBC's hit series "ER," brainchild of executive producer and Carnegie Mellon alum John Wells. 
Aaron Staton (A '04) plays a young account exec at Sterling Cooper advertising agency on the new AMC show "Mad Men."
Abby MacFarlane (A '07) will have a role in NBC's new show "Journeyman."
Matthew Bomer (A '01) will have a recurring role on NBC's "Chuck" this season.
Cote DePablo (A '00) returns in her role as an undercover Israeli Special Agent in "NCIS" on CBS.
Rich Dreher (A '07) plays Lucy Liu's assistant on ABC's new "Cashmere Mafia."
Tamara Tunie (A '81) returns on NBC's "Law & Order: Special Victims Unit."
David Hornsby (A '98) writes and has a recurring character on "It's Always Sunny in Philadelphia" on FX.
Katie Mixon (A' 03) will appear on HBO's new series "East Bound and Down."

Actors from Carnegie Mellon who have created careers of exceptional distinction are also appearing in new leading roles this fall. These acclaimed artists provide remarkable role models for those just entering the profession.

Holly Hunter's (A '80) new show "Saving Grace" began airing over the summer on TNT. Fellow alumna Laura San Giacomo (A '84) plays her non-judgmental best friend, a criminalist in the unit.
Ted Danson (A '72) is co-starring with Glenn Close in the new FX series "Damages," a legal thriller built around a Manhattan litigator who specializes in corporate-malfeasance cases.
And calling all "24" fans: the seventh season, premiering in January 2008 on Fox, will feature Cherry Jones (A '78), stepping into the role of president.
Bradley encourages the university community to come and see the work of our young actors on the stages of the School of Drama this season. "You can be part of the process of discovering these exciting new talents."
Related Links: Watch Gaius Charles Interview [.mov]  |  School of Drama  |  CMU Showcase  |  College of Fine Arts  |  Alumni
---