Lauded for Key Developments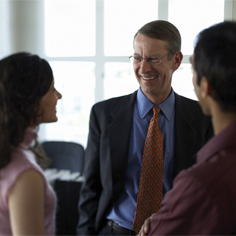 Carnegie Mellon University's Board of Trustees has appointed Kenneth B. Dunn to a second five-year term as dean of the
Tepper School of Business
.
"Under Dean Dunn, the Tepper School has seen a marked increase in the quality of its students, in the importance placed on the impact of faculty research and in external relations and fund raising," said Carnegie Mellon Provost and Senior Vice President
Mark Kamlet
.     
Among achievements in Dunn's first term, Kamlet highlighted the $55 million naming gift in 2004 from alumnus David Tepper, president and founder of Appaloosa Management LP, and his wife, Marlene, as a "seminal event" for the school and university.
"It bespeaks the confidence of the donors not only in the school and the university, but also in Dean Dunn and his vision for the Tepper School," Kamlet said.     
"I am honored to be reappointed dean of the Tepper School of Business — among the best business schools in the country and the world," said Dunn. "We are committed to an exceptional educational and research environment, and to continuing to recognize and utilize the extraordinary achievements of our faculty and alumni in advancing the mission of the Tepper School of Business."     
As part of Dunn's review, a faculty committee unanimously recommended his reappointment.
The faculty committee lauded:
•    Dunn's effectiveness with both external and internal constituents;
•    his contacts with alumni, dating from his time as a professor at Carnegie Mellon;
•    his credibility with industry through his experience and business success; and
•    his credibility with faculty from his own academic success.     
The committee also emphasized Dunn's clear articulation of the importance of top-quality academic research through his creation of several centers aimed at promoting the synergies between research and education.
The committee also noted market research conducted by the Tepper School that indicated much higher levels of alumni satisfaction and excitement about the school.
Dunn
was initially appointed the eighth dean of the Tepper School in July 2002, following a 16-year career managing fixed income portfolios.
Related Links: Tepper School of Business  |  Dean Dunn's Profile  |  Full Press Release
---