Business is More Than Just a Job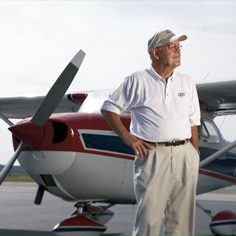 As a pilot, Carnegie Mellon graduate Dick Lyon enjoys flying. As a volunteer for Angel Flight of Georgia, he pursues his passion, maintains his technical proficiency and gives back by helping those in need.
After graduating from GSIA in the early '60s, Lyon launched a successful business consulting career with a major accounting firm performing systems consulting. He added to his experience a venture capital firm and a large multi-industry company before launching his own independent consulting firm.
He retired from Eco Waste Technologies, which sponsored research for chemical processes. The demands of a heavy work-related travel schedule led Lyon to begin providing his own transportation.
"I earned my private pilot's license in 1972 in Ohio," says Lyon. "It was something I always wanted to do. When I moved to Atlanta, I continued flying and have only flown for personal or business transportation."
For the last five years, however, Lyon also has been using his skills to help transport patients who need medical treatments. Many are children born with deformities or elderly cancer patients.
"I see my passengers act with courage and perseverance," reflects Lyon. "While they have significant issues to deal with, their attitudes and flexibility are good examples for the rest of us to follow."
Using his single-engine Cessna and providing his own fuel, Lyon makes eight to 10 trips for Angel Flight each year out of the Dekalb Peachtree Airport. He has no assigned route or territory, but each flight takes him two to three hours from home. He waits while the patient receives treatment then flies them home to Atlanta.
"Working with Angel Flight is a good excuse for me to get out and fly," says Lyon. "It helps me to maintain my flying skills. But mostly, it helps me to fulfill my philosophy that you need to give back. Life can be stressful, but you can control your time and help others, which can help reduce stress."
In addition to serving as a volunteer pilot, Lyon also serves as a caseworker for Catholic Charities and works with theater and music organizations. One highlight of his volunteer career occurred in 2004 when his barbershop quartet appeared in the film "Bobby Jones: Stroke of Genius."
By Janice Jeletic. This story originally appeared in Tepper Magazine's Winter 2007 issue.
Related Links: Tepper Magazine  |  Tepper School of Business
---