Carnegie Mellon Family Will Get a Dog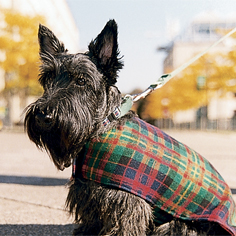 It's official. A Scottish Terrier has clearly won the hearts of the campus community and will become Carnegie Mellon's new official mascot.
While a highlander and Tartan plaid were also considered — and will continue to be used in various forms to represent the university — Carnegie Mellon's beloved Scottie dog is now a formal member of the family.
Of the 400 alumni who responded to a survey, 25 percent believed the Scottie dog was already the official mascot. And according to a student body survey conducted in February 2007, nearly 78 percent voted in favor of the dog's image.
Additional support for the Scottie came via a January town hall meeting and more than one hundred emails. All of the responses were incorporated into the decision-making.
A committee that involved students, faculty, staff and administrators in various capacities assisted in the selection process. They are now submitting requests for proposals to create the mascot's design.  In addition to an official mascot design, the firm will create a pattern of other graphics associated with the mascot. A new mascot costume for athletic events will also be designed.
Once a design company is selected, focus groups consisting of campus community members will help gauge wants and needs when it comes to the Scottie's rendering. When it comes to a final design, the selection committee and senior management will bring these focus groups and other discussions into their consideration.
Look for the new mascot design to be unveiled in the fall of 2007.
Related Links: The Mascot Debate  |  Finding a Mascot
---