Actors Land Auditions with Warner Bros., Dreamworks & More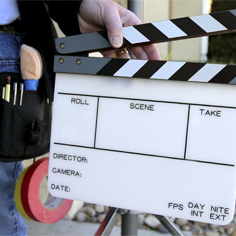 Actors in Carnegie Mellon's School of Drama just got one step closer to the big screen — and the little screen too. They recently performed in Los Angeles for nearly 600 of the country's top movie and television execs.
According to Carnegie Mellon's Don Wadsworth, professor of drama and director of the event called "Showcase," that's nearly double the audience that attended last year's event.
"We had an enormous response from industry this year," said Wadsworth. "The industry folks really love Carnegie Mellon actors and would never miss the showcase, even though they have invitations from scores and scores of other schools."
It's also a time when Carnegie Mellon alums get a chance to work with the young actors. Two prominent alumni, Matthew Bomer, star of the new ABC series Traveler, and producer Paula Wagner, who flew in from Paris to be a part of the event, introduced students at the showings.  And alum John Wells, executive producer of such primetime hits as ER and The West Wing, called all of the actors in for a screen test.
Several actors were called in to audition at Dreamworks, Warner Brothers, Disney and top talent agents including the United Talent Agency (UTA) and the Creative Artists Agency (CAA).   
"I'm very proud of the young actors," said Wadsworth. "They handle themselves very professionally."   
The L.A. Showcase differs from the recently held New York Showcase in that it is geared toward getting the students jobs in television and film rather than theater. The performances contain less music, dialect and accents, and the actors' change their dress and hair to appear more television- and movie-friendly.   
Carnegie Mellon's School of Drama is the oldest actor-training program in the country, having produced a number of well known and highly respected actors since 1914.
Recent alumni and Showcase success stories involve Gaius Charles, star of Friday Night Lights; Zach Quinto, star of Heroes; Cote de Pablo, who stars in NCIS; Abby Brammel, star of The Unit; and Gabriel Macht, who starred in the feature films The Good Shepard and Because I Said So.
Related Links: Showcase 2007  |  School of Drama
---