Keyboard Project Gets Kids Excited about Learning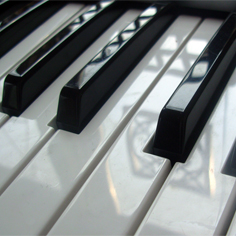 Music has the power to enrich lives. That's why Carnegie Mellon is working to put keyboards into the classrooms of many Pittsburgh public schools through a project funded by the Grable Foundation.
"It's so vitally important for music to be part of the curriculum in every school," said Carnegie Mellon's Natalie Ozeas, associate head of the School of Music. "We don't deny that reading and math are important, but they are not enough."
The students are not only learning how to play keyboards but also improvising and composing their own music. The impact, according to Ozeas, has not gone unnoticed.
"The students are eager to come to class. They show up for concerts in the evenings," she explained. "In a time when urban school attendance is a problem, our programs provide a reason to come to school."
So far, about 470 keyboards and teaching materials have been placed in 23 local schools through the project. In addition to providing funding, the Grable Foundation will occasionally provide an exceptionally gifted student with his or her own keyboard for home use.
Ozeas also works with the Professional Development for Urban Music Educators project in 18 high poverty schools in Pittsburgh and Wilkinsburg. An enrichment curriculum has been developed to actively engage students in music making.
Based on "hands-on" learning experiences, the curriculum uses World Drumming, Dalcroze eurhythmics, Hip Hop and workshops with members of the River City Brass Band (RCBB) in which the kids can ask questions and observe real musicians working behind the scenes.  
The students have also been working with conductor Denis Colwell to plan a concert by RCBB exclusively for the schools in the project. In this concert, an ensemble of students will perform World Drumming with the band.
This is just one of the many ways in which Carnegie Mellon professors and students are working with schools, companies and other entities to make a positive impact in the Pittsburgh region.            
Related Links: School of Music  |  Read More  |  River City Brass Band
---