National Competition Challenges Presidential Candidates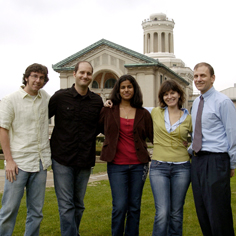 Carnegie Mellon's Shahzeen Attari, Ines Margarida Lima de Azevedo, Benjamin Flath and Constantine Samaras — engineering grad  students — are first-place winners in the "Tomorrow's Energy Ambassadors, Managers and Scholars" (TEAMS) competition.
The national contest, sponsored by Johnson Controls Inc., asked students to demonstrate their awareness of important energy and sustainability issues in a letter challenging the current field of presidential candidates to clarify their own positions on these topics. The students' winning letter appeared as a full-page ad Nov. 20 in the Pittsburgh and Washington, D.C., regional editions of USA Today.
The Carnegie Mellon team will receive a $10,000 check for the school's scholarship fund from Johnson Controls. The team also will receive a $2,500 grant from Johnson Controls and will be invited guests at the 2008 Energy Efficiency Forum, June 10-11, at the National Press Club in Washington, D.C. 
"We challenged the students at more than 200 member schools of the Association for the Advancement of Sustainability in Higher Education to draft an open letter to the field of 2008 presidential candidates," said Clay Nesler, vice president of global energy and sustainability at Johnson Controls, a global leader in integrating technologies and products to create smart environments.
"The letter from Carnegie Mellon students, in particular, demonstrates that this generation is both inspired and impatient. We congratulate them for outlining an informed and timely query to the candidates," he added.
David A. Dzombak said the Carnegie Mellon student team has made some insightful observations about what the current crop of presidential hopefuls should be addressing when it comes to America's environmental and energy policies.
"This team of students from different departments, but engaged in interdisciplinary environmental research through the Green Design Institute, demonstrates the importance of bringing multiple perspectives to the complex nexus of environment, energy and policy," said Dzombak, the Walter J. Blenko Sr.  Professor of Environmental Engineering and faculty director of the Steinbrenner Institute for Environmental Education and Research.
Photographed: Benjamin Flath, Constantine Samaras, Ines Margarida Lima de Azevedo, Shahzeen Attari and Professor David Dzombak.
Related Links: USA Today Ad [.pdf]  |  Read More  |  Environment
---