Bringing Art to the People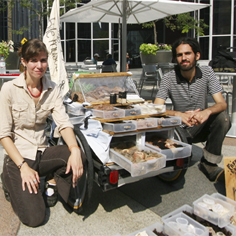 Ally Reeves (A '08) hasn't changed much since she was a kid. Once a fourth grader who equipped her bike with cardboard storage devices to carry snacks, she is now founder of the Mobile Museum — a bike cart carrying the work of local artists into Pittsburgh's neighborhoods.
"I have worked in several museums and galleries," recalled Reeves, "and I have often walked through a museum and wondered at the mind, or minds, behind the collection."
But onlookers needn't wonder at all about the art collection trailing behind Reeves' two-wheeler. She brings the artist along with her to converse with the public. (Watch video in Related Links.)
Alberto J. Almarza (A '05) created "Pok," a collection of pottery currently being featured.
"The desire to reach people of all segments of a population is a big factor in my interest in this unique project," Almarza said. He explains that in the neighborhood setting, the interaction between audience and art is direct; the judges are human beings from many different backgrounds and in their own familiar contexts.
"It forces me as an artist to define my work in the most transparent, honest and devoted way, leaving me completely naked from the art culture's preconceived notions," he added.
"Pok," a term coined by his 1-year-old son meaning "mud" or "art bread," is made using only natural clays collected locally; no materials are bought. Almarza uses his hands as tools; thus, the decoration consists of fingerprints and nail marks.
The glazes are likewise hand-mixed from recycled, reclaimed or found raw materials. And no electricity or gas is used in the firing; only outdoor fires, or kilns made with the same material policies as his art, are used.
"The idea is to take the complex techniques of pottery back to an approach that is accessible — emphasizing the need for art methods to be available to all," said Almarza.
Reeves enjoys the unpredictability of the venture.
"My traveling, human-powered show space collects insights and comments from every viewer, tying feedback and location to a central conversation," she said. "It's like an experiment in storytelling through conversation and objects."
She notes that the Mobile Museum honors each storyteller's version of how the world works.
"The pedagogy of the cart is chance, wonder and interpretation," she said. "Wisdom — like the Mobile Museum — comes and goes from unpredictable places."
Photographed: Ally Reeves and Alberto J. Almarza
Related Links: Watch Video [.mov]  |  Mobile Museum.com  |  College of Fine Arts
---