Cosson Returns to Direct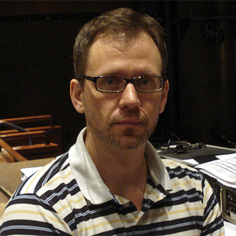 Steve Cosson, artistic director of the New York-based theater company The Civilians, is no stranger to Carnegie Mellon's School of Drama. Alice Carter, theater critic of the Pittsburgh Tribune-Review, called his 2004 production of "Serious Money" the year's best theater production by a university.
Three years later, Cosson returns to Carnegie Mellon to direct the New York-themed "Guys and Dolls." Meanwhile, The Civilians' production of "Gone Missing," a play also centering on the lives of New Yorkers, continues to gain accolades.
"Directing 'Guys and Dolls' is a wonderful opportunity for me to direct a classic American musical. It's an iconic show and a wonderfully structured piece of musical theater," Cosson said.
"There is something very special about Carnegie Mellon. Students who are on a professional track in their respective theatre fields coordinate all aspects of the production," he added. "All the students are involved in the theater operation and they are learning while they are doing. I think it gives a special charge to the work."
Cosson continued, "It's a process of discovery for all of the students and for me it's a refreshing and renewing experience being able to participate with the students."
This year marks the 75th anniversary of the publication of the Damon Runyon stories that inspired the musical. From high-rolling gamblers to one Miss Sarah Brown, a missionary determined to save them all, the characters have become musical legends.
Cosson added, "My hope is to strip away the memories of the numerous productions people have seen. 'Guys and Dolls' has a high level of familiarity, so my goal is to make the show as fresh as possible and strip away the cartoon aspects of the musical. I want to make these characters real and three-dimensional."
"Guys and Dolls" opens Nov. 29 and run through Dec. 8 in the Philip Chosky Theater on Carnegie Mellon's Pittsburgh campus.
Photographed: Steve Cosson
Related Links: Steve Cosson Interview  |  Buy Tickets  |  The Civilians
---