Alum Creates Award-Winning Typefaces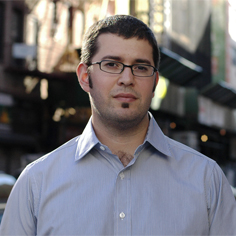 Small letters are the product of big design ideas. And Carnegie Mellon School of Design alumnus Christian Schwartz (A '99) was recently honored for his outstanding work in typeface design.
Schwartz won the prestigious Prix Charles Peignot award in September 2007. The Prix — awarded by the Association Typographique Internationale (ATypI) — is given every four or five years to a designer under 35 who has made "an outstanding contribution to the field of type design."
"I generally work by myself all day, which means that my job often feels very anonymous, so it really means a lot to be recognized by my peers," Schwartz said.
The association cited two of Schwartz's projects as being especially notable: the DB Types, designed for the Deutsche Bahn's new corporate identity in collaboration with design luminary Erik Spiekermann; and Guardian, an extensive set of typefaces created in collaboration with London-based designer Paul Barnes for the dramatic 2005 redesign of British newspaper The Guardian.
Schwartz is principal of Schwartzco Inc., based in New York City, and works full-time as a type designer, mainly designing custom typefaces for newspapers and magazines.
Schwartz has worked independently since 2001, first forming Orange Italic with product designer Dino Sanchez (A '99) before founding Schwartzco Inc. in 2006.
He has released commercial fonts with Village, FontFont, and digital type pioneers Émigré, designed the widely-used Neutraface family for release by House Industries, who also reissued Orange Italic's infamous Luxury Collection in 2006.
He has released a number of typefaces through Font Bureau, including Farnham, used in Sports Illustrated and Rolling Stone, and Amplitude, which was first seen in the pages of the magazine Wallpaper*.
Schwartz and Barnes are preparing to launch a type foundry of their own in the spring of 2008.
Schwartz was included in this year's "Design 100" in Time Magazine. He and Barnes were named two of the 40 most influential designers under 40 by Wallpaper* in 2006, and as part of The Guardian's redesign team, were short-listed for the Designer of the Year prize by the Design Museum in London.
Related Links: Christian Schwartz  |  School of Design  |  Interview with MyFonts.com  |  Association Typographique Internationale
---