Website to Tell Your Stories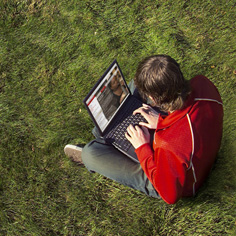 Spending one day at Carnegie Mellon University brings into focus how our unique education is yielding solutions that make a real difference in people's lives. Now www.cmu.edu brings that focus to you, wherever you are.
Welcome to our new website. We'll be using these pages to bring you inside our classrooms and laboratories, giving you a closer look at the Carnegie Mellon students, faculty and alumni who have propelled us to our status as a top-ranked university.
Whether it's spotlighting our innovation and creativity, our collaboration across disciplines, or our partnerships between the arts and technology, we'll give you resources to explore all the characteristics that make Carnegie Mellon a world leader in education and research. And we'll take you beyond the classroom to see the ways in which our students, alumni and faculty are bringing positive change to communities around the globe.
The new website will be just as dynamic as Carnegie Mellon's student body. New content updates will keep things fresh, and you, the user, are invited to participate in the online experience.
E-mail us
with story ideas, photographs and site feedback.
Now take a look around and discover the world of Carnegie Mellon.
Related Links: About Us  |  The Global University  |  Schools and Colleges
---