Disruptive Innovations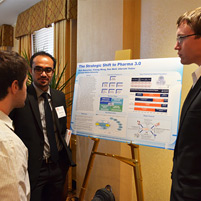 Conference photo by Karan Shah (TPR'10, '14)
Innovation in health care technology could mean microbial vigilantes, mannequins that scream when injected with too much epinephrine or a future where 80 percent of doctors are virtual.

All of these topics were discussed at Carnegie Mellon University's third annual Innovation in Health Care Technology Conference.

Hosted by the BioPharma and Healthcare Club of the Heinz College and Tepper School of Business in February, participants explored "innovative disruption" in the field.

"It's all about thinking differently. Instead of trying to make something better, maybe it should be totally different," said conference co-chair Ruth Shaw (HNZ'14), a student in the Health Care Policy and Management program.

Disruption was explored by the more than 250 attendees through panel discussions, from the digitization of medicine to analyzing the future of the pharmaceutical industry. Alan J. Russell, Ph.D., head of CMU's Disruptive Health Care Innovation Institute, and William Bria, chief medical information officer of the HCI Group, delivered the keynotes.

Despite not having a medical school, CMU is a leader in health care. Faculty members as well as alumni shared their stories.

Steve Bollinger is an adjunct faculty member at Heinz's Biotechnology and Management Program and CEO and president of Rinovum Women's Health Inc., a company that helps couples struggling with infertility. He was joined by Curtis Stratman (TPR'08), a senior product manager at Omnyx, which has digitized slide imaging for pathologists diagnosing cancer, and Steve Fleck (TPR'04), CEO and president of Proximedics, which he describes as the "agile tech-savvy partner to large pharma organizations." The final member of the panel was Christine Robins, CEO of BodyMedia (which has since been acquired by Jawbone). Bodymedia was founded by two CMU graduates, Astro Teller (CS'98) and John "Ivo" Stivoric (A'93, '98).

Among the health care professionals and information technology experts were students interested in health care, such as Kyle Buescher (HNZ'14). Buescher was drawn to the panel on the digitization of medicine, which featured Dan Pellegrini (HNZ'12) and Stivoric, where panelists and audience members discussed the benefits and problems of virtual care delivery.

"I like hearing a different perspective, especially the physicians' perspective, because I'm going to work for Epic [Systems Corp.] after graduation, and I'll be on the other side of it," Buescher said.

Student research also touches on a number of health care fronts. Emily Sale (HNZ'14) and Thomas Romanoff (HNZ'14), both Public Policy and Management students, presented research on how nursing homes for rural communities could be revamped to provide a floor plan that is conducive to community, as well as a design for high-tech watches for residents to communicate needs to the staff. Others discussed CMU research about phage therapy helping bacterial strains that are resistant to antibiotics.

Shaw was pleased with the diversity of perspectives represented at the conference.

"There's a lot of strong opinions in health care," Shaw said. "When people open their eyes, that's when disruption and innovation happens. Hopefully [the conference] fosters new collaborations, and it leads to better health care in the future for everybody."
Related Links: Carnegie Mellon Today: John "Ivo" Stivoric | Patient Safety
---