Ask Doctor G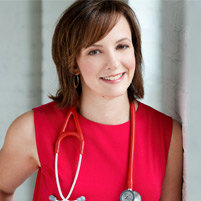 Dr. Deborah Gilboa
Dr. Deborah Gilboa (A'92) is a woman of many talents.

From stage manager at The Second City to family physician and television host fluent in American Sign Language (ASL), she remains grateful to Carnegie Mellon University for its part in her varied successes.

The Chicago native came to CMU for its renowned School of Drama — celebrating its centennial this year — to concentrate on stage management and lighting design. After graduation, she worked at theaters across the country, including Deaf West Theater in Los Angeles. The experience sparked her commitment to deaf culture.

"I gave my deaf acquaintances theater tickets in exchange for sign language lessons, everywhere I went," Gilboa said.

At age 23, she landed a coveted position at The Second City, one of the premiere improv theaters in the country, which has been home to stars such as Tina Fey, Stephen Colbert and Bill Murray. Soon, she was seeking another way to "contribute to people's lives in a very clear way."

After years of ASL courses, medical school and a residency, Gilboa returned to Pittsburgh as a practicing family physician. She joined the staff of the Squirrel Hill Health Center. The only ASL-fluent physician in the region, she treats hundreds of deaf patients from as far as 100 miles away.

The mother of four young sons segued into speaking on the topic of parenting for corporations, universities and schools to help parents to be more respectful, responsible and resilient. Her CMU theater background prepared her to speak comfortably in front of large groups and on television.

She contributes regularly to Pittsburgh Today Live, Windy City Live and will soon serve as a parenting expert for the five-city 2014 Parenting Expo.

Gilboa also has served as host and contributor of a six-part public television series titled "IQ: smartparent," on issues relating to parenting and media.

Her first book, "Get the Behavior You Want Without Being The Parent You Hate," is expected this fall.

"As a family physician, I'm asked often to speak on public health topics, most often parenting," Gilboa said. "I feel really passionate because if I can help parents become more effective in guiding their children, that helps kids get healthier."

Through it all, she's remained connected to CMU.

"My CMU network absolutely helped me both as a recent graduate looking to get jobs in my field and now, when looking to build my repertoire of audiences," Gilboa said. "And CMU really prepares you for work in the real world. I cannot underestimate the value of that."

She's taught stage management to CMU drama students and still speaks to classes about careers outside of theater. She also speaks to parents during Ceilidh weekend on the young adult transition to full adulthood and wants to extend her program to students.

"Even if you don't realize it while you're there, the CMU campus can become a home that you comfortably go back to when you're ready to push to the next level of whatever you're doing," Gilboa said.
Related Links: Website: www.AskDoctorG.com | School of Drama Centennial
---