Surgical Robot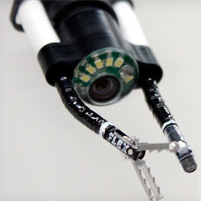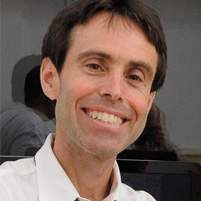 Howie Choset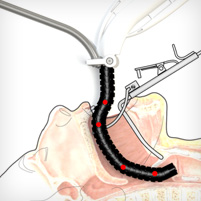 The Flex System robotic device
The flexible movements of a new device could give surgeons better access to tough-to-reach spaces.

Medrobotics Corp. announced earlier this year that it would begin limited marketing in Europe of a robot-assisted surgical device based on the bio-inspired robot research of Howie Choset, Carnegie Mellon University professor of robotics.

The Flex System is a flexible endoscopic system that enables surgeons to access and visualize hard-to-reach anatomical locations. The system thus promises to extend the benefits of minimally invasive surgery — shorter hospital stays and recovery times — to a broader population of patients. The company initially has targeted the system for use in head and neck surgery, operating through the mouth.

Choset developed the surgical robot in collaboration with Alon Wolf, then a post-doctoral researcher and now a faculty member at Technion-Israel Institute of Technology, and Dr. Marco Zenati, then a professor of surgery at the University of Pittsburgh School of Medicine, now at Harvard Medical School. Choset, Wolf and Zenati co-founded Medrobotics as a Carnegie Mellon spin-off in 2005. The company, now based in Raynham, Mass., has obtained the CE Marking that enables Medrobotics to market the product in Europe. The company has launched the Flex System in select European markets with the intent to complete a clinical trial.

Choset, the company's acting chief technology officer and a partial owner, said he is gratified that the fruits of his research may soon begin helping patients. But he emphasized that the device never would have reached market without one crucial action on his part: letting go of his technology.

"Commercializing a surgical device is not something that a robotics professor such as myself can accomplish with grants to the university," Choset said. "It requires a large, long-term investment that only a private company can bring together, as well as specialized medical device expertise. When it comes to making this technology available to patients, the company really did the heavy lifting."

Choset said Pittsburgh was the ideal starting point for this technology because of the world-class expertise in robotics at Carnegie Mellon and medicine at Pitt. Likewise, it benefited from the entrepreneurial and marketing support of the Pittsburgh Life Sciences Greenhouse, which initially invested in Medrobotics.

Choset is a leading expert on multi-jointed robots that resemble snakes. His research team in the Robotics Institute has developed a series of robots capable of making their way through the rubble of collapsed buildings, climbing poles and crawling through pipes. Recently, Choset has been using these robots to inspect the interiors of nuclear power plants.

For the surgical device, Choset and his research team designed a probe that could bend, but remain rigid. It thus combines the features of a laparoscope — a rigid, straight viewing device often used in minimally invasive surgery — with an endoscope, which is a flexible, non-rigid device for peering inside the body.  Physicians can use a joystick to steer the Flex System around anatomical structures to reach targeted locations.

The head of the device features a high-definition video camera. Ports on either side of the camera can accommodate tools for cutting or grasping tissue. Though initially developed and tested for heart procedures, Medrobotics has focused its marketing on head-and-neck surgeries accessed through the mouth.

"The Flex System provides a unique platform to access and visualize surgical targets in difficult to reach locations, such as the oropharynx (the area connecting the mouth to the top of the throat) and endolarnyx (within the larynx)," said Dr. Marshall Strome, chairman emeritus of the Cleveland Clinic Head and Neck Institute and a Medrobotics medical adviser.
Related Links: Medrobotics Corp. | Robotics Institute | Pittsburgh Life Sciences Greenhouse
---