Open LunchBots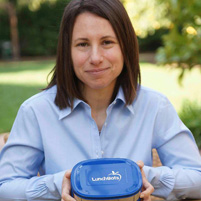 Jacqueline Linder
Jacqueline Linder (E'88) always knew she wanted to lead a company but she wasn't sure what type of company it would be.

She was packing her lunch when she had a big idea.

The Carnegie Mellon University-trained engineer left the high-tech industry to sink her teeth into founding LunchBots, a company that produces plastic-free food containers for people on the move.

She was working in Silicon Valley when she began to think about the lack of plastic-free food containers on the market.

"I became concerned about the chemicals in plastic, which have been shown to leach into the food stored in them," she said. "At the time, there were new stainless steel water bottles entering the market, but there were really no plastic-free food containers. I pack my lunch for work, and my kids take lunches to school, and so I found myself looking for a product that didn't exist in the U.S." 

Linder founded LunchBots in 2009. The Palo Alto, Calif.-based company produces insulated and leak-proof stainless steel food containers.

"The focus of the company is to inspire people to live a healthier lifestyle for themselves and for the planet, and that's what drives our products and our decisions," she said. "I started LunchBots to provide a healthy and easy alternative for people taking food to go, but also to encourage them to actually pack their own food, because it allows you to lead a healthier lifestyle."

She noted that LunchBots is one component of the growing consumer movement to raise awareness of food quality and sources.

Linder credits her time at CMU's Department of Civil and Environmental Engineering (CEE) with giving her the confidence to enter a new industry.

"Without the experiences that I had in CEE, I'm not sure I would have started LunchBots," she said. "When I started the company, I didn't have experience in many of the areas I work in now — direct manufacturing, e-commerce — but from my experience at CEE, I knew I could figure it out. I was always able to learn what I had to and to be creative, resourceful and hardworking — all of those great qualities that you develop in such a demanding program — and I think it really set the stage for me to have the confidence that I could do anything."

During her time at Carnegie Mellon, Linder grew close to the CEE community. In particular, she appreciated the time she spent with Paul Christiano, former dean of the College of Engineering, CEE head and CMU provost. "Dr. Christiano was a real supporter of mine, and had a major impact in my life," she said. "He believed in me before I believed in myself, so I have very kind memories of him."

These days, Linder is returning to Carnegie Mellon in a different role: her son Canaan (DC'17) will be starting his second year this fall. Linder has taken the opportunity to reconnect to the university.

"It has brought me back to the university, and it's just a great feeling," she said. "CMU is really the right place for him."
Related Links: CEE Alum Promotes Healthy Lifestyles with LunchBots | College of Engineering | Department of Civil and Environmental Engineering
---