University Center Named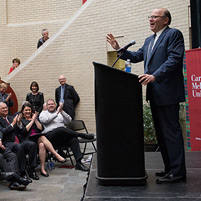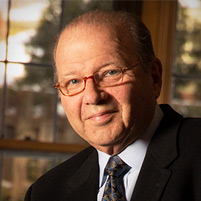 President Emeritus Jared L. Cohon
Carnegie Mellon University recognized President Emeritus Jared L. Cohon's many contributions and accomplishments to the life of CMU by naming the University Center after him.

The honor follows the tradition of naming buildings after former presidents, and the Jared L. Cohon University Center serves as a prominent and popular meeting place of the diverse university community that Cohon, CMU's eighth president, strengthened and inspired.

"During Jared L. Cohon's tenure as university president, Carnegie Mellon has advanced on many fronts, including accelerating its long tradition of being a catalyst of regional economic prosperity," said CMU President Subra Suresh. "We are very pleased to name the University Center in honor of Jerry Cohon."

Speakers at the naming ceremony included Suresh; Gina Casalegno, associate vice president and dean of student affairs; John Hannon, associate dean of student affairs; James Rohr, vice chair of the university's Board of Trustees; Mark Kamlet, provost and executive vice president; Stanley Krowitz, University Center Administrator; Dan Gilman, City of Pittsburgh councilman; and Millard McElwee, a junior in civil and environmental engineering.
Hannon drew laughs from the assembled crowd when he shared a memory of Cohon helping members of the Tartan football team trying to move a 1,500-lb. shuffleboard table several hundred feet through the University Center's basement.
"He whipped off his jacket in a move that was half James Bond and half Don Draper and began assisting us," Hannon said. "All I could think was 'boys, for the love of God, do not drop this table on the president's foot,' because I simply cannot live down the embarrassment of a headline in the Chronicle of Higher Education reading 'Carnegie Mellon President Critically Injured in Shuffleboard Accident."
Others drew parallels between the building and the man.
"Dr. Cohon's mission when he was president was to engage students and put them first. The University Center is the heart of the university," McElwee said. "Dr. Cohon has the biggest heart of anyone that I know, and it is truly evident that his heart is in his work."
Krowitz recalled poignant University Center moments indelibly etched in the minds of the campus community, from Randy Pausch's "Last Lecture" to 9/11 when students turned fear into courage, standing in lines for days to donate blood.
"Through it all, one man stood strong like a beacon of light in the darkness, providing hope," Krowitz said of Cohon.
The naming ceremony kicked off with a student a capella group singing a rendition of Stevie Wonder's "Signed, Sealed, Delivered." Casalegno borrowed a line from the song at the ceremony's closing as she announced to Cohon, "Signed, sealed, delivered, it's yours."
Cohon is a renowned teacher, engineer and national academic leader, who for 16 years served with distinction as president of Carnegie Mellon University. He is known for engaging enthusiastically with students, alumni, faculty and staff, and tirelessly nurturing the interdisciplinary and collaborative culture of Carnegie Mellon.

As president, Cohon guided the university to unprecedented growth, including record levels of philanthropic support and alumni engagement. His bold vision for the future inspired creation of new educational facilities and laid a foundation for higher levels of achievement in teaching and research.

He brought a global perspective to the mission of the university, fostering new degree programs and partnerships around the world, including an undergraduate campus in Qatar.

Cohon also reached out to local and regional partners to improve the economy of Western Pennsylvania with a style that brought people together.

The timing of the naming ceremony was also appropriate. It took place during the 100th anniversary of Spring Carnival, one of the most anticipated traditions at CMU when alumni, students, faculty and staff gather to celebrate the university and surrounding community.
Related Links: Cohon: A Legacy of Leadership | Cohon Named New Director of Scott Institute | Carnegie Mellon Today: Accidental President | University Center Addition To Expand Fitness, Recreation Space
---