Empowering Technology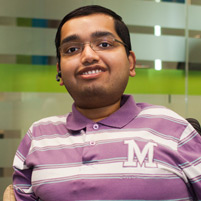 Anirban Lahiri
Anirban Lahiri faced a major challenge as a student at Carnegie Mellon University in Qatar — spinal muscular atrophy type 2, an inherited disease that causes muscle damage and weakness.

But he not only utilized specialized technology to earn a computer science degree, he now plays an integral role in helping others with special needs.

CMU-Q recently celebrated its 10th anniversary, and Lahiri was a member of the first class to graduate from the Doha campus.

While at CMU-Q, Lahiri (CS'08) realized it was difficult to use a conventional computer keyboard with his limited dexterity. He would get fatigued and couldn't reach all the keys. He could use a mouse, so he paired it with software that creates a keyboard on the screen, using his mouse to click the characters.

"CMU has been very cooperative in working together with me to identify the accommodations that I needed within the classroom and throughout the university," Lahiri said.

In 2008, a few months after he graduated, Hessa Al-Jaber, Qatar's minister of information, communication and technology, asked Lahiri to join a panel of experts who were advising the government on how to help disabled people access life-changing technologies.

It was in this group that Lahiri first conceptualized Mada — a "one-stop shop" connecting people with special needs to the latest technologies and advocating for improved services. With the support of Qatar's Supreme Council for Information and Communication Technology (ictQATAR), Mada opened in June 2010.

Mada occupies two floors in the Ministry of Information Communication and Technology Building in Qatar. One of the floors serves as a dedicated resource center where people try different assistive technologies. After an assessment, technology is provided to them free of cost.

As Mada's senior assistive technology specialist, Lahiri helps more than 600 people a year find the right technologies to reach their goals. One of his clients, a 15-year-old girl with cerebral palsy who was in a wheelchair and had communication impairments, sticks out in his mind.

"She wanted to be able to effectively express herself and communicate with others. We set her up with a Windows-based tablet PC installed with a text-to-speech software that spoke out the words and sentences she typed," he said. His team also set up an environmental control module controlled through her tablet PC that allowed her to operate any device that came with an infrared remote control.

"Her joy of being empowered with the ability to independently communicate and perform tasks previously unthought of seemed priceless," he said.

Lahiri said that Mada has been identifying the gaps of the local accessibility landscape, and in the future he hopes to expand, working closely with students and entrepreneurs to develop new technologies.
Related Links: Carnegie Mellon University in Qatar | School of Computer Science | Mada
---