Sweet Devotion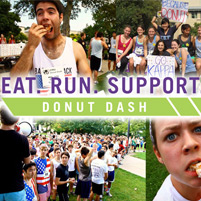 Run. Eat. Do good.

The Donut Dash powered by Peoples Natural Gas, where competitors run 2 miles and eat half a dozen donuts, is more than just raising money for a good cause. It's also providing members of Carnegie Mellon University's Sigma Alpha Epsilon (SAE) chapter opportunities that will be invaluable in the workplace.

The group set a fundraising goal of $100,000 and has raised more than $71,000 so far.

Jeffrey Mich (DC'15) was event manager for this year's race.

"The skills required for that job — knowing who to reach out to, how to reach out to them, the appropriate tone to use, the time management and organization skills — are so hard to get real practice in prior to going into the workforce," Mich said. "So the fact that CMU provides the opportunity and tools to do that is incredibly special."

Mich and other members of the Donut Dash committee worked with third party vendors, corporations and individual donors.

Eric Collazo (DC'17) was working on his first Donut Dash.

"It helps me learn how to deal with people with a lot of different backgrounds and learn how to manage people and personalities," Collazo said.

What was driving the students to create a successful event was Bob Dax (E'72, '77), a longtime alumni adviser for SAE who was diagnosed with Amyotrophic lateral sclerosis (ALS) in January.

The Donut Dash was one of two events the weekend of Oct. 5–6 that benefits LiveLikeLou, a fund of the Pittsburgh Foundation, which raises awareness of ALS, provides care and comfort to ALS families in Western Pennsylvania and supports scientific research targeted at finding a cure. Neil Alexander, who founded LiveLikeLou with his wife, said that the Donut Dash is its largest fundraiser both in terms of donations and participants.

"We very much appreciate it, especially the number of attendees. That helps a great deal with awareness," Alexander said. "I have been incredibly impressed with SAE. Their professionalism, their maturity and their desire to do public service. They give fraternities a good name."

Dax said that being an adviser to SAE has been fulfilling in seeing how the students evolve into young men.

"You can go back and see their accomplishments. You see that happening now with the Donut Dash," Dax said. "They've taken this event and done so much with it. It's amazing to see what they've done as a single chapter."

Dax and his wife, Kathy (A'75), will receive the Alumni Distinguished Service Award at Cèilidh Weekend.

"ALS is a degenerative disease, and I will participate as long as I can," Dax said. "When you have something of this nature you need to have a purpose and a positive mental attitude. Being an adviser provides me a purpose and helps me stay positive."

Last year they raised more than $21,000 for the Children's Hospital of Pittsburgh Foundation.

Brandon Weghorst, associate executive director of communications for Sigma Alpha Epsilon's national organization, said that more people have contacted the national office in praise of the Donut Dash fundraiser than perhaps any other philanthropic cause that any of the more than SAE's 240 chapters conduct annually.

"We are very proud of our chapter at Carnegie Mellon for their continued efforts with the Donut Dash," Weghorst said. "Their commitment to helping their community reiterates one of Sigma Alpha Epsilon's cornerstones, and we are thankful to the event's participants for their support to fight ALS.

Emily Cunningham, coordinator of Greek Leadership Development for Student Affairs, said that the SAE put creative genius into their idea to take what started as a small event and expanded it into one that has partners across campus such as Alumni Relations, Parking & Transportation, Police, Athletics and Student Affairs. They had corporate sponsorship including Peoples Natural Gas and H&M Analytical Services.

"They wanted to do something big and put themselves out there. What was really impressive and awe-inspiring is how much they're doing this in honor of Bob," Cunningham said. "It sends a message that their organization can get things done and create a positive environment for other people."

Some 7,000 donuts were ordered from Dunkin' Donuts, and more than 500 participants signed up to run the course.
Related Links: CMU Donut Dash | Live Like Lou
---