Rhythm & Brains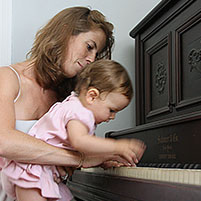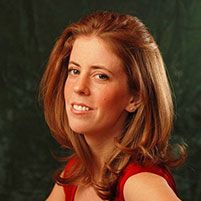 Carnegie Mellon University alumna Jessica Phillips-Silver (BXA'99) has music on her mind.
An associate researcher in neuroscience and adjunct professor of music at Georgetown University, she is feeling the beat in showing how music is a multisensory experience.
Phillips-Silver studied music and psychology at CMU, and immediately drew connections.
"I noticed it while going back and forth between classes — in one I'm practicing using my body as an instrument; and in the other, I was learning about how the brain works. I started realizing that we can't separate these two. The way we perceive the world is shaped by the body we live in," she said.
Phillips-Silver earned a bachelor's degree of Humanities and Arts in psychology and music from CMU, and said a psychology term paper went on to become her Ph.D. thesis. She explored the correlation between the way we view the iconic optical illusion of two faces or a vase and the way we feel different beat patterns, both of which demonstrate the question of which is the figure and which is the background.
Professor Annabelle Joseph, director of the Marta Sanchez Dalcroze Training Center, was teaching the class when Phillips-Silver equated the rhythms with the optical illusion.
"It blew my mind and made perfect sense," Joseph said. "Jessica would always ask those 'what if' questions and needed to verify accepted dogma for herself."
Phillips-Silver bore out the polyrhythmic idea by bouncing babies in her arms to the different beat patterns, proving that babies would recognize the patterns in acoustic form after they were felt in their bodies.
After showing how early in life humans can feel the beat, she documented the first case of the musical disorder "beat deafness," and has studied people who have trouble connecting physically with rhythm. Her studies were inspired by a psychology class at CMU, where she wrote a term paper about amusia, a disorder where the brain can't hear or reproduce pitch. She thinks that "beat deafness," while rare, could have a genetic component.
Phillips-Silver has seen her field grow immensely, and she said many of the early studies focused on how the brain perceives pitch.
"People weren't looking at time as much as how the brain processes time and rhythm through the body. I came along and wanted to show that in the context of music, the way we move our body can actually shape the rhythm that we hear," she said.
She is sharing her findings through a new course at Georgetown University combining music and neuroscience.
She also was excited to see CMU's recent launch of its BrainHub℠ initiative, which is focusing on how the structure and activity of the brain give rise to complex behaviors.
"I think this is fundamentally how the brain needs to be studied — it is not a conventional subject, and it does not abide by arbitrary academic constraints. That is exactly why I chose to attend CMU and study music and cognitive science. CMU is a pioneer in the professional training of autonomous, integrated thinkers," she says.
In addition, she founded "Growing Brains: a brains-based approach to raising children and communities."
Her mission through Growing Brains is to empower families and institutions with a model for raising children and educating communities that integrates evidence from brain science with core values from the arts, medicine and a mindset that children from all backgrounds should have access to music as a way of mastering their own minds and bodies. 
Growing Brains clients in the nation's capital include the University of Maryland School of Public Health, Children's National Medical Center and the Washington Performing Arts.
Related Links: NPR: Think Before You Clap: You Could Be Beat Deaf | CMU's BrainHub
---