Celebrating Brains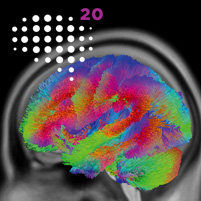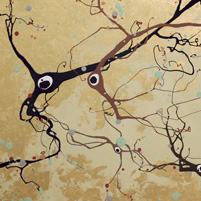 Detail from "Synaptogenesis," Greg Dunn, enamel on composition gold leaf
The Center for the Neural Basis of Cognition (CNBC) — a collaboration between Carnegie Mellon University and the University of Pittsburgh — recently celebrated its 20th anniversary.

As part of the festivities, "Neurons and Other Memories … Work In and Around the Brain" is on display at CMU's Miller Gallery through Oct. 26.

The celebration further emphasized the university's commitment to BrainHub℠, CMU's recently launched global initiative that is harnessing the technology to help the world explore brain and behavior.

Marlene Behrmann, the CMU co-director of the CNBC and the George A. and Helen Dunham Cowan Professor of Cognitive Neuroscience, said that it is a really exciting time to be a neuroscientist — especially in Pittsburgh.

"We have the perfect confluence of all of the building blocks — technology developments, incredible equipment and computational and theoretical advances — along with a strong ethic of working collaboratively. I believe we really are poised to continue making significant scientific progress," Behrmann said. "And that progress will begin to bear fruit for understanding the relationship between the brain and behavior and using this knowledge to improve the diagnosis and treatment of people with various brain-based impairments. CMU and Pittsburgh are so well situated to push forward in these areas."

The CNBC integrates Carnegie Mellon's strengths in psychology, computer science, biological sciences and statistics with Pitt's strengths in bioengineering, math, psychology, and basic and clinical neuroscience to investigate the neural mechanisms that give rise to human cognitive abilities. The center also trains the next generation of neuroscientists through an interdisciplinary graduate and post-doctoral training program and fosters close collaborations between faculty.

The anniversary's two-day event featured panelists and speakers from Emory University, the James S. McDonnell Foundation, the University of Colorado Boulder, New York University, the University of Maryland, the Weizmann Institute of Science (Israel), Harvard Medical School and the National Institute of Mental Health, among others.

"Neurons and Other Memories … Work In and Around the Brain" is curated by CMU's Adjunct Associate Professor Patricia Maurides in collaboration with the CNBC. The exhibition features investigations, translations and reflections of neural mechanisms by artists and neuroscientists.

"We are thrilled to celebrate our 20th anniversary by welcoming distinguished speakers to Pittsburgh, and this exhibition at the Miller Gallery is an additional highlight to offer," Behrmann said.

While the CNBC is commemorating its 20 years, Carnegie Mellon has been a leader in the study of brain and behavior for more than 50 years. As the birthplace of artificial intelligence and cognitive psychology, CMU created some of the first cognitive tutors, helped develop the Jeopardy-winning Watson, founded a groundbreaking doctoral program in neural computation and completed cutting-edge work in understanding the genetics of autism.
Related Links: BrainHub | CNBC | CMU, Pitt Celebrate 20 Years of Advancing Brain Research | "Neurons and Other Memories" Opens at CMU's Miller Gallery
---