Active Entrepreneur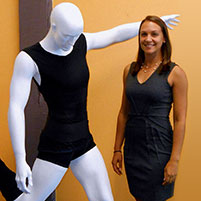 Kelly Collier (E'11)
When Kelly Collier (
E
'11) heard about the
Open Field Entrepreneurs Fund
(OFEF) during commencement, she sat straight up.
Encouraged by the funding opportunity, Collier envisioned a company that produces pain relieving back braces.
Today, Collier and
ActivAided
are part of Carnegie Mellon University's growing entrepreneurial ecosystem.
ActivAided's products help people living active lifestyles avoid the pain and discomfort athletes face every day, something the company's CEO knows all about.
"I certainly wasn't willing to make sacrifices in my athletic pursuits, no matter how much it hurt," Collier said. She said that she'd find ways to deal with pain such as heat before workouts, ice after workouts and Ibuprofen.
In her senior year, Collier put her studies in
materials science
and
biomedical engineering
to work, teaming with peers to invent a shirt that uses the body's natural motion to promote better posture and reduce back pain. She stitched the first ActivAided prototype in her mother's basement.
Proud as she was of developing a product that addressed the pain points she shared with other athletes, Collier didn't think she would stay in the Pittsburgh area or man the helm at a startup. She'd been accepted to Johns Hopkins University's Ph.D. program in materials science and was Baltimore-bound.
The OFEF announcement changed her mind. OFEF offers CMU grads interested in launching a company a leg up on the competition by providing early stage investment. The evergreen fund does more than seed startups. The fund's founders, Jonathan Kaplan (TPR'90) and Peter Stern (E'89), had a goal of building an entrepreneurial culture from the ground up, connecting young entrepreneurs with funding, networking and mentors.
"I felt like [the announcement] was a great sign that there were a lot of opportunities available to help me make this happen," Collier said. "The following day, I met with Kit Needham at
Project Olympus
who gave me my first advice on how to move forward with this idea as a business, beyond just a class project."
Needham is entrepreneur in residence at the
Center for Innovation and Entrepreneurship
, of which Project Olympus is a part. She and the CIE staff served as guides, pointing Collier's efforts in the right direction and helping her forge ahead.
When Collier and the other students behind ActivAided first approached her, Needham told them they had some soul searching to do. She asked hard questions about their commitment to the project and one by one they left. Needham called Collier, the only member of the original team to continue with the company, "a determined striver who sees problems as challenges."
"I would coach, suggest and facilitate — and to Kelly's credit, she took advantage of every resource made available to her, from me as well as others, and used these resources wisely," Needham said.
Needham also stressed that the Open Field Entrepreneurs Funds are crucial to startups in the adolescent stage of development.
"After
AlphaLab
, virtually every team needs some type of 'bridge financing' to build the business to the point where other investors are ready to step in," Needham said. "OFEF plays a vital role in providing that bridge financing."
The OFEF did just that for ActivAided.
"That investment came at an incredibly crucial time," Collier said. "We had a lot of plans and a big to-do list, and with that cash infusion we could finally [take] some big steps forward in building a sales channel, increasing our production capacity and hiring a team."
With the OFEF and matching funds raised by Collier and her team, ActivAided transitioned out of the accelerator and into their own offices. The staff is rushing to produce and market products that alleviate the aches and pains of athletics, but Collier still finds time to play an active role in CMU's startup culture.
"There are so many clubs and programs I've gotten to present at or be a panelist for," she said. "
LaunchCMU
, Project Olympus show and tells, the Entrepreneurship and Venture Capital club, Real World Engineering job shadowing, pre-college programs promoting girls in STEM and the Odyssey program are ones that come to mind. I think the Alumni office has my number on speed dial, but I'm OK with that!"
Related Links: Center for Innovation and Entrepreneurship | Open Field Entrepreneurs Fund | Entrepreurship Bootcamp
---