Imperfect Health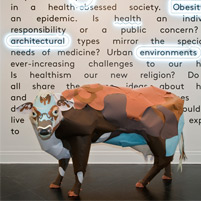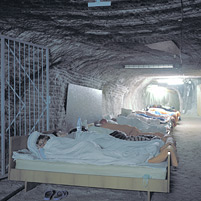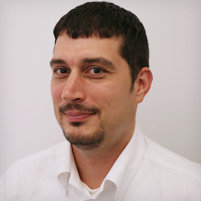 Peter Scupelli, Ph.D. (Photo by Sharon West)
The
Design Observer
calls it the "Exhibition of the Year."
"
Imperfect Health: The Medicalization of Architecture
" ends its only U.S. tour stop at the Miller Gallery at Carnegie Mellon University, Sun., Feb. 24.
As concern grows about what causes disease, architecture and design are addressing health fears, incorporating medical issues and related concerns in their projects.
"Imperfect Health" features a wide range of works — including photographs, sculpture, video, research and archival materials, design projects, and architectural models and drawings — that together examine the complex relationships between design and health.
"A smart survey of a subject that, unfortunately, we can all take personally," noted the
Design Observer
review, Imperfect Health "questions common understandings of 'positive' and 'negative' outcomes within the flux of research on, and cultural conceptions of, health."
Abitare
magazine also reviewed the exhibition and said that "at a time when health is a primary concern influencing social and political discourse across the globe, it also finds increasing resonance in an architectural debate that is becoming medicalized."
Peter Scupelli, assistant professor in CMU's
School of Design
, attended the show, where he recognized some old friends from throughout his architecture studies who were exhibiting.
"I did my doctoral studies in
Human-Computer Interaction
in the healthcare domain, so it is a very pleasant surprise to see that in the field of
architecture
much attention is being paid to the topic of health," he said.
"'Imperfect Health' makes an insightful contribution to local and national dialogues around health problems, and whether architecture and design should take on prescriptive roles," said
Astria Suparak
, director of the Miller Gallery.
Scupelli was inspired by the evidence-based design approach in healthcare architecture in the show. His own research explores how the physical environment, human behavior and information technology together support surgery schedule coordination services on the day of surgery. 
He hopes his design guidelines will help hospitals improve coordination and reduce stress associated with accommodating frequent emergencies, interruptions and delays.  
"Both art and science can change the world. The way they do it is different, though," Scupelli said. He feels that research tends to be more specific on the implications and the theory that can guide action, whereas art inspires people to imagine a new world.
"I think we need both, so it's neat to see such a beautiful show on such an important issue as health," he said.
Organized by the Canadian Centre for Architecture (CCA), "Imperfect Health" features works from the CCA's extensive collection and loans from other individuals and institutions, by an international group of architects, artists and designers.
The Miller Gallery is located in the Purnell Center for the Arts on CMU's Pittsburgh campus. Admission is free and open to the public
"Imperfect Health" exhibitors include Bernd and Hilla Becher, Berkeley Institute of Design and Intel Labs, BIG (Bjarke Ingels Group), Mel Chin, Todd Haynes, Henry Dreyfuss Associates, Steven Holl Architects, Gordon Matta-Clark, Niall McLaughlin, MIT AgeLab, Morphosis, MVRDV, New York City Department of Health and Mental Hygiene, OMA (Office for Metropolitan Architecture), Francois Roche, SANAA (Sejima and Nishizawa and Associates), and Alison and Peter Smithson.
Photo, top:
Imperfect Health: the Medicalization of Architecture
, installation view with cow by Andy Byers, Canadian Centre for Architecture, 2011. Photo © CCA, Montréal
Photo, middle:
Speleotherapy: Breathing In,
Solotvyno salt mine, Ukraine, 2009, chromogenic color print, 36.5 x 54.4 cm. Kirill Kuletski, photographer. © Kirill Kuletski
Related Links: College of Fine Arts | Miller Gallery | School of Design | School of Architecture | School of Art
---