Pro Golfer Drives New Team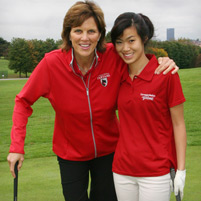 Missie Berteotti with junior Brooke Kuei of East Brunswick, N.J.
Missie Berteotti, a 14-year veteran of the Ladies Professional Golf Association (LPGA), has joined the athletics staff at Carnegie Mellon as the university's first-ever women's varsity golf coach.

The women's golf program has begun play for the 2013–14 season with club team status. They will compete at the intercollegiate level the following year.  

"I am very excited to help develop the first women's golf team at Carnegie Mellon and be affiliated with this great university," Berteotti said. "I'm looking forward to working with student-athletes of this caliber with the initiative and drive to do their very best. It is a great privilege."

During her 14 years on the LPGA tour, Berteotti won the Ping Welch's Classic in 1993 while placing in the top 10 on many occasions. Her career-best round of 65 came in the third round of the 1991 Women's Kemper Open in Hawaii.

Last year, she authored a book called "The Mental Mastery Program," in which she discusses learning how to trust yourself and how to handle fears among other strategies to improve your game.

"The pursuit of professional and personal breakthroughs is a subject I love. I'm challenged by it. It requires everything from you. It requires an awareness of yourself that often comes from somebody who can see you the way you can't see yourself," Berteotti said.

"I hope that after four years with me, the girls will know themselves better and handle things better — the trying times, the disappointments, the bad breaks, the tough competition. That's life."

A state-of-the-art simulator in CMU's new indoor practice facility in Skibo Gym will enable the team to practice year-round.

Josh Centor, who was named interim director of Athletics in July, said, "The addition of an indoor practice facility for our intercollegiate golfers is a significant and meaningful step for our program. Our golfers now have a place to work on their skills regardless of weather."

He added: "There aren't many programs that have indoor facilities like this one. It is truly a beautiful space that will directly impact the experience of our students."

Another facility addition that will soon be making an impact on students as well as faculty and staff is the planned expansion of the University Center.

Components of the project include:
more than 8,000 square feet of fitness space including free weights, weight machines and cardiovascular equipment;
three exercise studios including a dedicated spinning studio with a video screen to simulate biking trails;
additional locker rooms;
black box theater for student performance groups;
administrative office suite;
improved circulation and equipment desk area;
pool balcony with HVAC improvements; and
a new entrance and lobby area off of Forbes Avenue
"The fitness center addition to the University Center will be transformative for campus life," Centor said. "There is a significant need for fitness space at Carnegie Mellon and this expansion will provide our community members with greater opportunities to be active, fit and healthy."
Related Links: MissieBerteotti.com | Athletics | UC Addition To Expand Fitness, Recreation Space
---